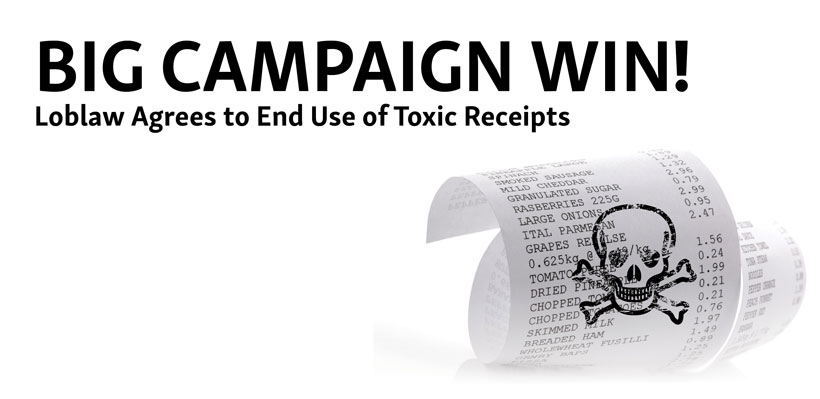 After our sustained campaign to eliminate toxic receipt papers, UFCW Canada Local 1006A is proud to welcome Loblaw's newly announced commitment to stop using receipts with Bisphenol A (BPA), Bisphenol S (BPS) and other bisphenol papers by the end of 2021.
1006A has been vocal in the campaign to end the use of these harmful receipts. 1006A advocated and raised awareness among our membership, through telephone town halls, email newsletters, provincial Joint Health and Safety Committee meetings, 1006Alive, our Stewards' Conference, and posters in all local union units across Ontario.
Our partnership with community allies including Environmental Defence, Breast Cancer Action Quebec and Mind the Store has demonstrated the power of solidarity and collaboration throughout the campaign.
"This is a big victory for our members' health and safety," said President Wayne Hanley. "Our union has been vocal in advocating for the elimination of bisphenol receipt papers, which pose serious health risks and repercussions for all workers across Ontario. We welcome Loblaw's decision to take action on this vital issue and will continue to urge other employers to follow suit and also ban these toxic receipts for the safety of all workers."
The use of bisphenol paper will phased out at Loblaws Great Food, Real Canadian Superstore, No Frills, and other Loblaw's subsidiaries and banners including Shoppers Drug Mart and T&T.
Currently, thermal receipt papers are found in many 1006A-represented workplaces, including grocery stores (receipts) restaurants (order slips), movie theaters (tickets), public transportation (tickets and transfers) hotels and warehouses.
"This victory does not mean our work is done, we must continue to advocate on this vital issue to ensure no workers across Ontario are exposed to the hazards of bisphenol receipts," said President Hanley.
Simply touching thermal receipt papers, which are widely used at workplaces throughout Ontario, exposes workers and consumers to the harmful hormone disruptor, BPA. The presence of BPA has a huge impact on our health, affecting male and female reproduction, breast development, risk of cancer, obesity, thyroid, metabolism, and cardiovascular endocrinology.
BPS is believed to not only have the same adverse health risks as BPA, but is also suspected to be more easily absorbed by our bodies. Switzerland has banned BPA and BPS as a substitute.
Read Environmental Defence's report about the dangers of BPA and BPS.
"Due to our capacity to quickly absorb large quantities of BPA/BPS after very short exposure times, these products are hazards anywhere thermal receipt paper is present," said Rick Young, 1006A Health and Safety Representative. "Until the phase-out occurs, we encourage members to remain careful and insist on non–allergenic Nitrile and/or Neoprene disposable gloves from your employer to handle thermal receipt papers."
Read our 1006Alive story on Toxic Receipts (PDF).