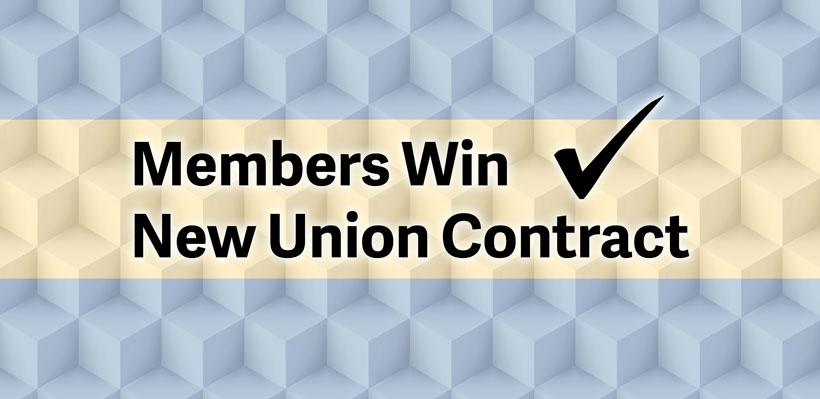 After voting to join UFCW Canada Local 1006A, members at Chapters Woodbridge are experiencing the union advantage with their newly ratified union contract.
"It feels great to have a union contract in place and to have the union help us in making sure that the contract gets implemented at Chapters in a fair and reasonable manner," said Sabrina Querubin, a member of the negotiations committee. "We are grateful to finally have a voice when it comes to our rights and correcting management practices that violate the Employment Standards Act."
This first contract includes: annual raises, minimum wage increase protection, two additional statutory holidays, three paid sick days, strict limits on sanitation duties and the elimination of favouritism through seniority language.
"I was very happy – it's a stressful process to certify and I was very happy we were finally here with the new contract," said Lena Demas, a fellow negotiating committee member. "We now have a union contract to protect us when we need it. The union representatives explained everything very well and supported us through the whole process."
Workers at Chapters Woodbridge, a banner of Indigo, voted to join the union earlier this year.
"We are thrilled to be the union for Indigo workers seeking fairness, respect and dignity at work," said President Wayne Hanley. "Congratulations to our members at Chapters Woodbridge for ratifying their first union contract – they have achieved a strong foundation to build on for the future. This contract shows the difference that the union can make."
Negotiations were led by Union Representative Dustin Magee with support from Union Representative Frank Mensah and members Querubin and Demes.
UFCW 1006A is proud to be home to a growing number of Indigo workers, who are choosing union representation to improve their livelihoods and working conditions. Prior to Chapters Woodbridge, workers at Indigo Square One joined UFCW 1006A and also secured their first contract.
If you are an Chapters/Indigo worker seeking union representation, contact Organizing Director, Lesley Prince at This email address is being protected from spambots. You need JavaScript enabled to view it. or 647-649-0073. Learn more about joining our union and fill out our online organizing form.