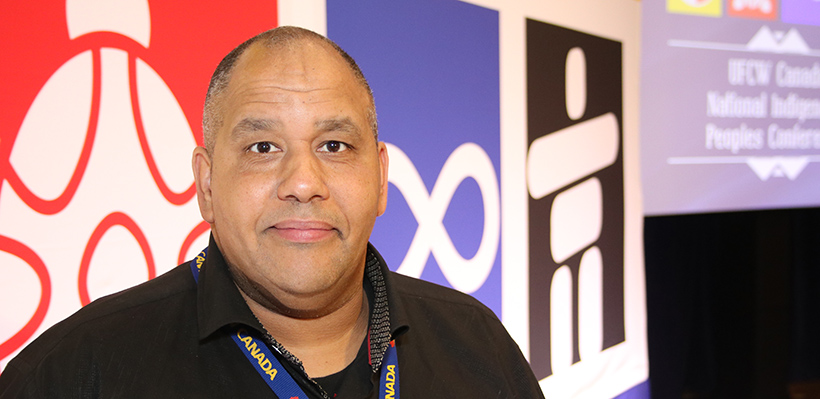 1006A member Shane Morse wasn't surprised when he learned about the remains of the 215 children found at a former Kamloops residential school.
"It doesn't shock me – I think this is just the tip of the iceberg," said Morse, a steward and a member of UFCW Canada's Indigenous Sub-committee. "We have family members, people, who were taken and never returned."
The children's remains were found on the grounds of the former Kamloops Indian Residential School and made news across Canada. Started in 1883, Canada's residential school system lasted for more than 100 years until 1996 and separated more than 150,000 children from their families.
"The number of remains is probably in the thousands, if not higher," Morse said. "There is more to come – I think the rest of Canada will get a wake-up call when they find other remains."
Shortly after the children's remains were found in Kamloops, more than 751 unmarked graves, believed to be mostly children, were found at the site of the former Marieval Indian Residential School in Saskatchewan.
More than 4,100 children are estimated to have died while attending these schools, reported the CBC.
At these schools, children faced the realities of forced assimilation, physical and sexual abuse, neglect, poor living conditions, malnutrition, disease, poor quality education, degradation and the elimination of their culture and languages.
Morse, who is Indigenous and Black, said growing up, there was always a fear of being taken away. It wasn't just the residential school system, but also the foster care system which tore Indigenous families apart. To this day, Indigenous children in foster care are often placed outside of their communities.
From a young age, he was told by his mother, who was Indigenous and grew up in foster care, to identify as Black because it was safer.
"The residential system ripped apart whole communities and affected a whole people," said Morse. "It was a way to break up communities and a way of life for people."
As the Truth and Reconciliation Commission reported, the long-term consequences of the Canadian government's actions, or lack there of, towards First Nations communities has been staggering, including: lack of clean water, poor quality housing, lower life expectancy rates, significant wage gaps, higher unemployment rates, health problems and illness and higher incarceration rates.
"A lot of our communities have been marginalized and left behind," said Morse. "The effects are multi-generational so I encourage others to be kind and show some understanding."
President Wayne Hanley said the union stands in solidarity with the Indigenous community in calling for justice and mourning the victims.
"The residential school system devastated families and communities, aimed to erase Indigenous people and culture and unleashed a cycle of pain and destruction that continues to this day."
Gloria Elstone, also a member of UFCW Canada's Indigenous Sub-committee and a steward, said she hoped people take time to learn about the issues that affect Indigenous people in their daily lives.
Elstone said this includes the need for clean water in Indigenous communities.
"Indigenous people are the original people on our land, and it's unfair that they have over 60 water advisories across Canada," she said.
In February 2021, the federal auditor general reported these 60 water advisories were in effect in 41 First Nations communities, and that some communities will not have clean water for years.
Missing and murdered Indigenous women are another key concern for the community, Elstone said.
"Everybody knows somebody affected—it's really hard to go to work if you don't know if you will be able to walk back safely or if your family member will be home or if they will be another statistic."
The Assembly of First Nations reports that Indigenous women and girls are five times more likely to experience violence compared to other groups. Despite being only 4.3 per cent of the Canadian population, 16 per cent of all female homicide victims and 11 per cent of those missing are Indigenous.
Elstone encouraged members to educate themselves about colonialism and the effects of residential schools on people.
"Learn about Indigenous culture and history and get involved by reaching out to your MPs about the issues that affect Indigenous communities. Make your voice heard on clean water for Indigenous communities and missing and murdered aboriginal women."
Elstone thanked the union for providing a space for Indigenous workers on key issues.
"I'd like to thank UFCW Canada for helping our Sub-Committee continue our work of connecting with Indigenous people in the workplace and letting them know, they are not alone, they have family and culture here and ensure more people are educated from an Indigenous perspective."
Union Representative Diana O'Brien said government needs to do more to implement the recommendations of the Truth and Reconciliation Commission. In 2015, the final report released 94 calls to action covering topics, including child welfare, education, health, language and culture, justice, missing children and burial information, youth programs, church apologies and reconciliation.
"We need our leaders to act with urgency to ensure there can be true reconciliation," she said. "So far, it's sad to see how slow the progress has been. Canada's first nations communities deserve better."
As for Morse, he is left with one big question as the media coverage on the remains of the children continues.
"People are in shock and horror now, but my question is, in six months from now, will this be forgotten?"
The Truth and Reconciliation Commision of Canada Calls to Action are available at www.trc.ca
The Indian Residential Schools Crisis Line is available 24-hours a day for anyone experiencing pain or distress as a result of their Residential school experience: 1-866-925-4419