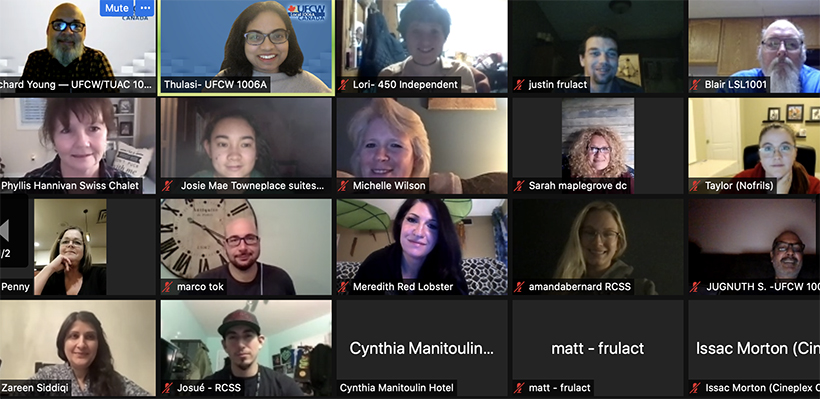 New stewards from across Ontario came together for Local 1006A's online stewards training this November, to gain skills and tools to help their co-workers on the shop floor.
The course – Introduction to Union Stewardship – drew first-time stewards from a variety of industries, including restaurant, transit, warehouse, grocery retail and food processing.
The training was delivered by 1006A's Rick Young from the Education & Training Department, and the Health and Safety Department. The introductory course featured a combination of specialized content through webcampus and virtual Zoom in-class sessions.
"Being a steward is one of the most important roles you can have at the union," said President Wayne Hanley. "It's truly inspiring to see so many new stewards step up and volunteer their time to gain the necessary skills and knowledge to protect their co-workers' rights and improve their workplace."
1006A is home to approximately 700 stewards. Due to the pandemic, the local moved to an online format for new stewards to ensure they had the opportunity to complete the introductory course. More than 100 new stewards were trained this year.
"The stewards training was a valuable learning experience," said Amanda Bernard, a new steward at RCSS Ajax. "Due to COVID, the training was delivered on an online platform, however, the modules were well-organized, easy to navigate, and extremely informative. I enjoyed the 'do at you own pace' environment as I was able to process the information deeply."
Meredith Rudd, a steward at Red Lobster in Burlington, also found the training useful.
"The stewards training was a great way to connect with each other and to solidify why we're here, taking on this role and what we hope to achieve," said Rudd. "We were given important tools and information to support us in doing the best job we can to help our co-workers and workplaces."
Phyllis Hannivan, who works at Swiss Chalet, was thankful for the experience.
"Today's training course was informative and gave me more confidence knowing I have the support of our union representing my co-workers," said Hannivan. "Being in and out of work for the last couple of years due to COVID, this was the reconnect I needed."
Lori Mosiuk, from Wilson's YIG in Ottawa, was also among the new stewards who were trained.
"I found the stewards training to be a good stepping stone in what we are hoping to achieve in this role as stewards," said Mosiuk. "This was my first-time in having the training done and I found out a lot of new ways to deal with certain union topics."
Thank you to everyone who participated in Stewards' Training this year.