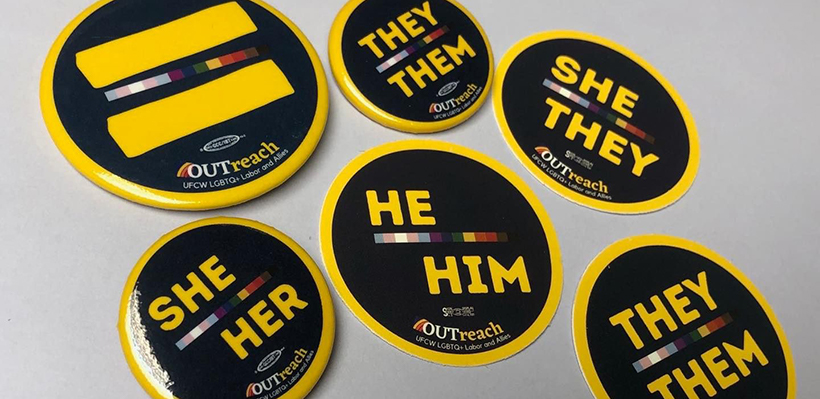 On March 31, UFCW 1006A encourages members and allies to join us in observing the International Transgender Day of Visibility.
Observed annually around the world, this day is an opportunity to celebrate transgender communities and to work together to end discrimination and transphobia.
"UFCW 1006A has a strong record of advocating for 2SLGBGTQi rights and we are proud to stand in solidarity with our members from the trans community on this important day," said President Wayne Hanley. "To our trans members, I want you to know that your union is with you, and you are not alone in the struggles you face. Together, we will build a more inclusive and equal world for all, free of prejudice and discrimination."
The International Transgender Day of Visibility was started in 2009 by Rachel Crandell, a U.S. based transgender activist, to bring visibility to the transgender community's achievements and struggles.
According to Statistics Canada, transgender Canadians "were more likely to have experienced violence since age 15, and also more likely to experience inappropriate behaviours in public, online and at work than cisgender Canadians." The organization states that more transgender Canadians reported "their mental health as poor or fair than their cisgender counterparts" and that trans people are often stigmatized at the individual and structural level.
UFCW 1006A continues to take a number of steps to make the local union more inclusive, including: raising awareness about transgender issues through our communications materials, undertaking staff diversity training, using pronouns in our contact cards, implementing gender-neutral union contract language, and creating gender-neutral bathrooms at our office and training centre. We also regularly participate in various pride festivals and events throughout the province.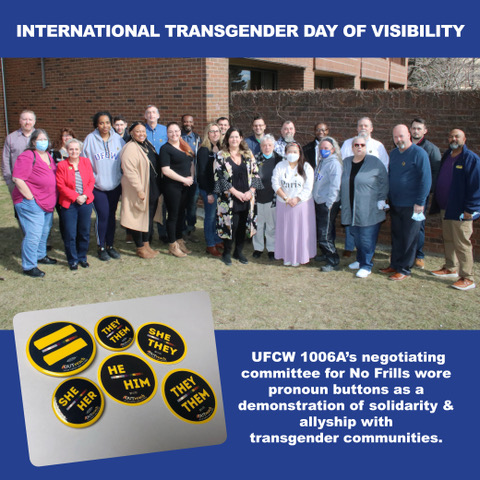 Most recently, UFCW 1006A's negotiating committee for No Frills wore pronoun buttons as a demonstration of solidarity and allyship with transgender communities.
"Many members of the 2SLGBTQi community call UFCW 1006A home," President Hanley said. "We are proud to proactively take measures to make our union more inclusive, safe, and welcoming to all."
HOW TO BE AN ALLY
Use gender-inclusive language
State your pronouns.
Be Respectful
Listen regularly
Support Trans people
Educate Yourself
Don't make assumptions about people's identities
Stand up for trans people if they are being misgendered or harassed
RESOURCES
The Canadian Centre for Gender and Sexual Diversity
GLAAD: Tips for Allies of Transgender People
United Nations: Free and Equal