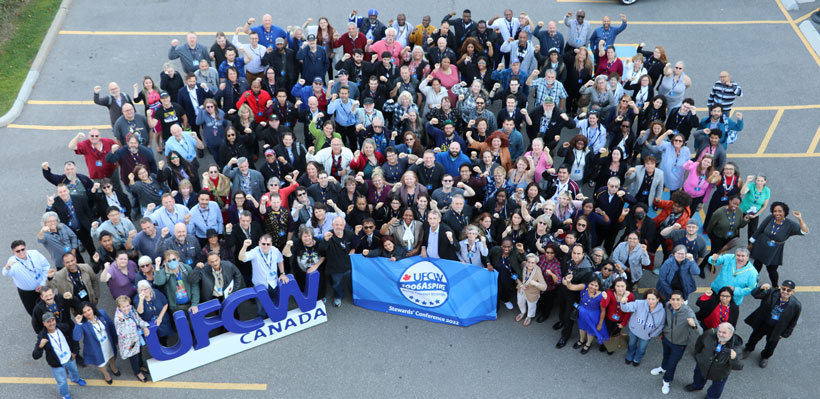 After three long years, UFCW 1006A was proud to host the largest Stewards' Conference in the local union's history.
More than 260 participants gathered for a day of inspiration and educational presentations on the issues which affect stewards at the workplace and in their communities.
The theme of the conference was "1006Aspire" and stewards reflected on their aspirations to make their workplaces and union stronger.
President Wayne Hanley delivered the keynote address where he thanked and recognized stewards for their hard work since the last Stewards' Conference.
"Thank you for everything you did during the pandemic and for remaining strong and involved and serving our membership every day," he said. "Every act of service, big or small, that you take as a 1006A steward makes a difference. Every time you help someone, every time you speak up, every time you just listen to all members, you are helping spark change."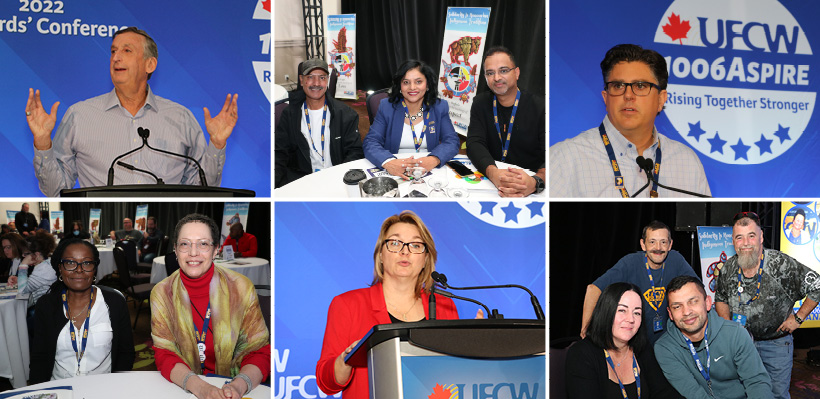 1006A Secretary-Treasurer Kevin Benn addressed stewards on the political challenges facing workers and provided a summary of the local union's strong financial position.
Stewards heard from a variety of speakers, including Canadian Labour Congress President Bea Bruske, Broadbent Institute Executive Director Jen Hassum, former CFL player and motivational speaker Orlando Bowen and comedian and author Kate Davis.
Recorder Glacier Effs-Samuel hosted an Organizing Panel, which featured Organizing Director Lesley Prince and stewards, Graeme Lamb from Steamworks, Keeden Wellington from Tokyo Smoke, and Kallisha Hoyes from No Frills.
Nancy Prout, a steward from the Real Canadian Superstore (RCSS) in Whitby, was among those who attended.
"The conference rejuvenated and strengthened us as we collaborated with our fellow stewards," Prout said. "I want to aspire to mentor and motivate our members."
Prout said her takeaways from the conference included "learning to focus on the positives, to shine, laugh and offer support to others."
Jonathan Bautista, a steward at Canadian Linen, attended the conference for the first time.
"Being a new steward, I learned a lot about UFCW 1006A and its history. I liked hearing from the new members who have joined."
As for his aspiration, Bautista said "I aspire to help others when needed, and speak up for what is right."
Zoran Markovic, a steward at Loblaw, said he loved the conference.
"The conference itself was excellent, a complete success."
Markovic said of his aspirations: "I aspire to be engaged and contribute as much I can to build a better and stronger union for all members and all workers in general."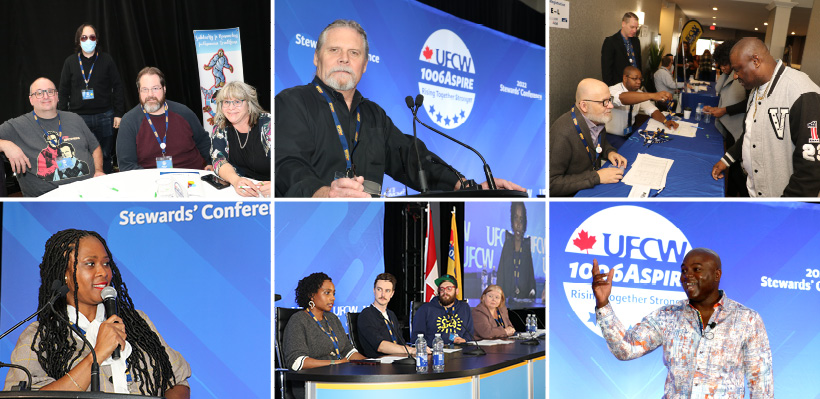 Christine McCallum, a steward from Maple Leaf Poultry, said the conference was very educational and entertaining. She said the address by Orlando Bowen moved her to tears.
McCallum, a steward since 2010, said she aspired to "kick the doors down to equality and fairness."
Marike Mueller-Ehrenberg, a steward at Loblaw, said she enjoyed the conference a lot.
"It was so great to see everyone again, including the whole union office team," she said. "The conference gave me a lot of new energy and more confidence to do what I do for my colleagues."
Mueller-Ehrenberg said she aspired to achieve "more fairness for workers, and to be inclusive to all."
Janice Redshaw, a steward at No Frills, said this conference was full of energy.
"We need to use this format to energize our membership and I believe that would increase involvement."
Redshaw said she aspires "to help, listen, comfort and be a source of information to my fellow members."
Valrie Francis, a steward at RCSS, said it was amazing to be back at the Stewards' Conference after three years.
"I appreciate the personal story that Orlando Bowen shared, which provoked conversations afterwards.
The idea of 'Rising Together Stronger' really captures what we are all overcoming during this pandemic and realizing that we, stewards, are truly gems."
Francis said she aspired "to be a positive influence, to encourage others and to make a difference."
Adriana Georgakopoulos, a member of the local union executive board and a steward at RCSS, said: "It was amazing to be able to finally have an in-person conference to reconnect."
Georgakopoulos's aspirations are to "to help people and to educate people."
Taylor MacLeod, a steward from No Frills, said the conference was rewarding and entertaining.
"I learned a lot, made new connections and have an overall amazing time," she said.
MacLeod said she aspired "to make a difference, bringing awareness about unions and the labour movement to young workers."