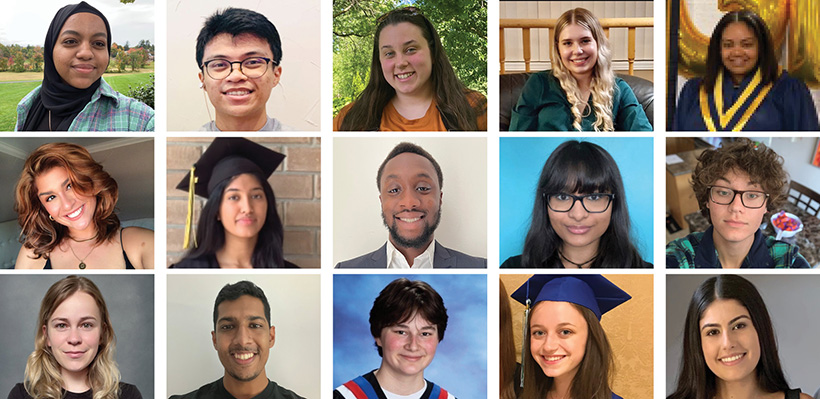 Edreyan Galera was completely surprised by the news that he won a union scholarship.
"I am extremely happy and quite honestly shocked to have been selected as a winner," said Galera, a second-year student at York University whose mother is a member of UFCW 1006A. "This scholarship is most certainly going to help me with my post-secondary education fees, especially with the continuous increases each year. With the field of science being a difficult path, this can lift some stress and allow me to focus a bit more to studying, so I am truly grateful."
Galera is among the 42 members and/or dependents who will receive a 1006A scholarship this year. Local 1006A awards 42 scholarships worth $1,006 each annually. The program, which has run for more than a decade, is aimed at helping members and their families cope with the escalating costs of tuition in Ontario.
"Thank you for the recognition and support that will help my career as a young professional in the field of sustainability, business, and environmental studies," said Pranav Rendalkar, a fourth year student from the University of Waterloo whose parent is a member of UFCW 1006A. "I will cherish the funding as a method to further my exploration of supporting the environment we all value locally, nationally, and globally."
President Wayne Hanley congratulated the 2022 recipients.
"Helping our members build a better life is at the core of our mission as a union, and that is what our scholarship program is all about," said President Wayne Hanley. "We are proud to support our members and their loved ones to achieve their dreams of post-secondary education. From our early days to today, unions and the labour movement continue to improve the lives of our members and their families and we are proud to continue that tradition with this scholarship program. On behalf of UFCW 1006A, I'm excited to congratulate all of our scholarship recipients and wish all of our applicants well in their educational journey."
Leana Al-Ugaily, a first-year student from York University, was thrilled to be awarded a scholarship.
"As a person who values health care, I look forward to helping others through my nursing career," she said. "This scholarship will help me pursue my goals and better the lives of others, as well as my own. It is a comforting feeling knowing that I am part of a supportive union who truly cares for my and my family's future."
"This scholarship means the opportunity to focus on my academic life without the added stress of managing a financial burden like university all by myself," said Monica Goncalves, a first year student from the University of Toronto. "It allows me to focus on myself and excel in what is important in my life so I can lead a happier and more balanced life."
Sherry Farley, a first year student from Trent University, said she was extremely grateful to receive the scholarship.
"University comes with a number of financial obligations, and this scholarship will help to alleviate some of them, allowing me to concentrate on my education and professional development," Farley said. "I am dedicated to my studies and my future career in nursing, and I am grateful for the union's investment in students like myself and our education."
For Tiem Nguyen, the scholarship meant a lot.
"As a first-year university student, I was thrilled to receive this scholarship as it allows me to both create my future and earn my degree at the same time," said Nguyen, a first-year student at the University of Waterloo. "As the son of a mother who is a member of UFCW Canada, this scholarship shows that the union cares about its workers and their lives outside of work."
Sarah Kuilboer, who studies at the University of Western University, was thrilled to be a scholarship recipient.
"I am so incredibly grateful for the generosity that has been shown to me and the opportunity to receive this scholarship," she said. "It is generosity like this that will allow me to continue in my educational journey and pursue my Bachelors of Education. This support is invaluable to me and I will forever be thankful."
Michael Bootsma, who is in his second year at the University of Toronto, said he is truly honoured to be a recipient of this scholarship.
"With the cost of everything rising and inadequate financial aid from our current government, this scholarship will greatly assist me in my goal of becoming a high school teacher," he said.* "This allows me to focus more on my studies and less on worrying about bills. This scholarship shows that the union cares about its members and it makes me proud to be a part of UFCW Canada Local 1006A."
Applications for the 2023 scholarship program are open – applicants not selected this year are welcome to reapply.
SCHOLARSHIP WINNERS
Reham Abdulkadir Ibrahim
Leana Al-Ugaily
Daniella Archibald
Jasmeen Bhangu
Michael Bootsma
Alexis Beard
Nicholas Chapman-Campos
Decklin Coombs
Junmarlee Corpuz
Sydney Charron
Michael Csontos
Kennedy Elson
Sherry Farley
Ruby Feiler
Edreyan Galera
Monica Goncalves
Tyrese Hawthorne
Megan Jaques
Sarah Kuilboer
Grace Lima
Alyssa Lounds
Justine Mathie
Jack Murphy
Sierra-Marie Nielsen
Tessa Ann Neuheimer
Tiem Nguyen
Mikayla Nosic
Palak Patel
Raniyah Patel
Pranav Rendalkar
Lydia Ritchie
Dana Romano
Serb Sandhu
Emilee Sebastiao
Happy Shrestha
Gabriella Suarez
Alex Kwan- Thai Tang
Jessica Underwood
Brianna Valle
Ylenia Wilson
Caroline York