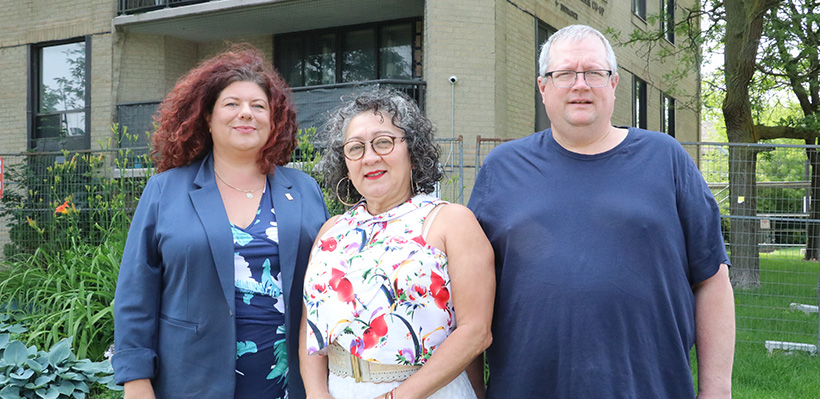 After the Workplace Safety and Insurance Board (WSIB) denied his case, UFCW 1006A member Shawn Bower was at a crossroads, between getting an essential surgery for his workplace injury or potentially losing his housing.
The board's decision meant he was not entitled to lost income for his workplace injury – funds that were crucial to help him cover costs during the surgery and recovery period.
"I was severely stressed out, because I knew I needed the surgery and I couldn't afford to be off work with no income," said Bower, who works at a GTA restaurant.
Bower, who worked as a prep cook for more than 18 years, suffered a left shoulder injury, due to his heavy and repetitive work duties. After an initial consultation with his family doctor in February 2022 and later a surgeon, he was recommended for expedited surgery.
However, WSIB denied his initial entitlement, leaving Bower devastated.
Bower's situation turned around once the union got involved.
Bower contacted his union representative, who put him in touch with the union's WSIB department. The local's WSIB representatives stepped in to assist Bower, handling paperwork and advocating for him at the hearing.
"I didn't know what I was going to do until I reached out to the union," said Bower. "They were a great support system."
As a result of the union's assistance, Bower won his appeal.
"The union has helped me a lot with my appeal against WSIB," said Bower. "If it wasn't for them, I don't know if I would have got my surgery or won my case."
The Appeals Resolution Officer found that Bower was entitled to loss of earnings benefits for any wage loss incurred to attend medical appointments for his injury. The officer also granted Bower entitlement for the surgery and associated loss of earning benefits for the post-surgery recovery period.
"I don't know if I would have won it on my own – if not for them, I don't know what would have happened," he said. "I didn't know the process I had to go through whereas the union's WSIB department did. I greatly appreciate all the help they provided."
President Wayne Hanley commended the work of the local union's WSIB department.
"Our WSIB Department continues to provide exceptional representation to members who are injured at work," said President Wayne Hanley. "I'm proud of the difference our union makes every day in ensuring injured workers receive the compensation they deserve. We know how difficult it is for our members, who experience workplace injuries, to deal with not only their injuries but the WSIB process as well. That is why our highly skilled and knowledgeable staff are always here to provide expert support and advice through this complex process."
When Bower learned of the positive decision, his stress began to disappear.
"I was immediately relieved because I knew I was going to have my surgery and that I would be paid when I am was off," he said. "That was the biggest worry for me – how am I going to pay my bills if WSIB is not going to pay me. I no longer had to worry about losing my housing, losing everything, and being homeless."
Today, Bower is on the road to recovery.
"Thank you UFCW – you definitely made a difference," he said. "If you get injured because of work, I definitely recommend you contact the union right away."
WATCH VIDEO OF SHAWN'S STORY