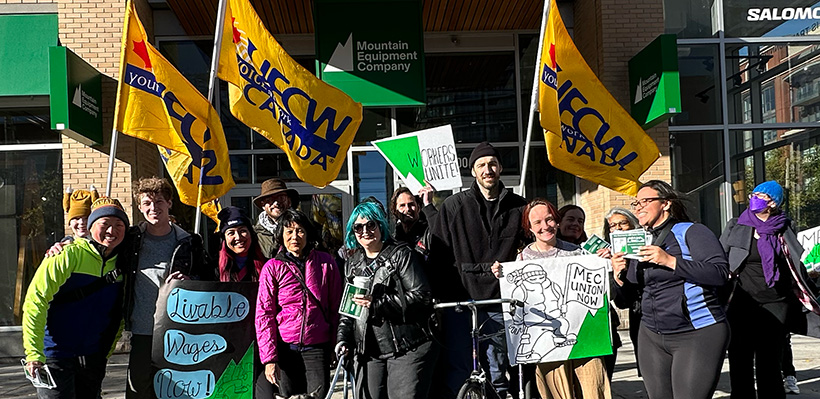 UFCW 1006A continues to grow as workers from Mountain Equipment Company (Queen Street-Toronto) voted to join the union. They are now the first group of MEC workers to be unionized in Ontario.
"I was ecstatic," said Calum Houston, who works at MEC. "Knowing that we can negotiate a deal that works for all of us, not just management and knowing that I was a part of that change makes me feel great."

The workers showed tremendous solidarity throughout the organizing campaign. Toronto Mayor Olivia Chow attended a recent rally outside the store to support workers.

"I was thrilled but honestly not super surprised," said Angelou Ramos, who works at MEC. "We're celebrating now but we have a group that's been working on a wish list of demands ready for activation. We've won today and gotten this far but the fight isn't over."

The bargaining unit is now composed of 80 members who work in a variety of roles, to provide customers with advice on outdoor gear, clothing and services.

"I'm proud to congratulate and welcome our newest members from Mountain Equipment Company to our UFCW 1006A family," said President Wayne Hanley. "Unionization is the pathway to achieving fairness and having a voice at work. This is a tremendous victory for the workers, who came together with courage, determination and unity, to build a fairer workplace for themselves and all their co-workers. We look forward to working with our members at MEC to negotiate their first union contract, and to improve their rights and livelihoods now and into the future."

If you are interested in joining a union or know a workplace that could benefit from unionization, please contact Organizing Director Lesley Prince at This email address is being protected from spambots. You need JavaScript enabled to view it..