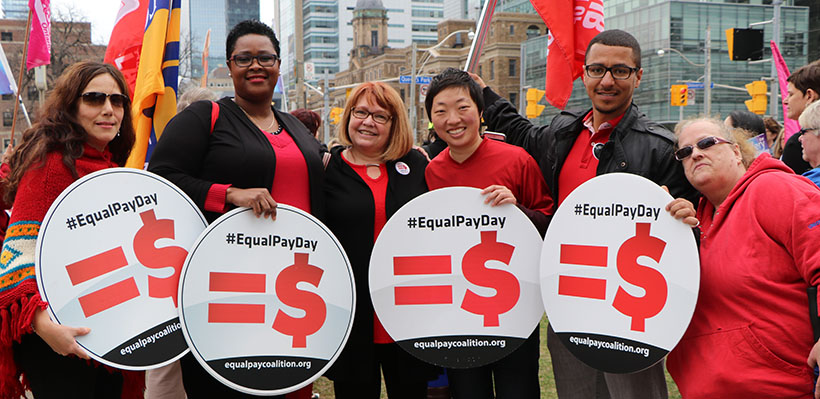 UFCW Canada Local 1006A proudly joined community and labour allies and activists on April 11 for Equal Pay Day in downtown Toronto.
Equal Pay Day is a stark reminder of how far we as a society have to go before we truly achieve gender equality.
The Ontario Equal Pay Coalition reports women, on average, have to work until April 11, 2017 to earn what a man did in 2016. In other words, a woman has to work 15 ½ months to earn what a man makes in 12 months. With women increasingly becoming the breadwinners within their families, the persistent pay gap has a profound impact on the financial security of workers and their families and the overall prosperity of our economy.
"Precarious work remains the reality for many women, and is one of the contributing factors to the gender wage gap," said Glacier Samuel, Recorder of Local 1006A and coordinator of the Women's Issues Network (WIN). "Unionization is vital to stopping the increase in precarious work as it provides workers with increased access to stable schedulign and hours."
Samuel, who spoke at the downtown rally, encouraged workers and allies to join UFCW Canada's campaign, Closing the Gender Wage Gap.
"We, as a society, have to do better," said President Wayne Hanley. "Eliminating the gender pay gap is about standing up for equality and fairness for all and we need to raise awareness and take action where and when we can. When women prosper, so do their families and their communities."
Tachani Bishop, a union activist from Toronto, said it's important that we keep observing Equal Pay Day.
"Women juggle many roles, including being a mother, and being in the workforce. It is wrong that women are not being paid equally and getting the respect they deserve."
Caroline Brisebois, a union activist from Ottawa, was proud to observe the day.
"It's so important that we take the time to reflect on Equal Pay Day," Brisebois said. "More and more women are the main breadwinners in their families and it's only fair that a woman is paid the same as men for the same work."
Cathy Watson, an activist from North Bay, said: "Long after we are gone, future generations will be happy that our union sisters and brothers were there long before them, fighting for them for equal pay. If we want to right the wrongs, we have to be loud enough to let everyone know we deserve to be equal."