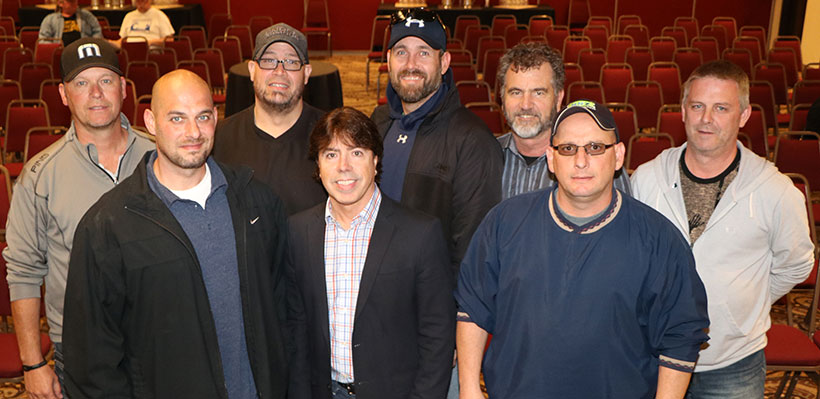 Wage increases and benefits improvements were among the many gains achieved by members at Maple Grove Distribution Centre in their new union contract.
Ratified on May 23, the agreement covers approximately 885 workers and runs from January 28, 2017 to January 24, 2024.
"The bargaining committee fought hard at the bargaining table to achieve this strong contract for our membership at Maple Grove Distribution Centre," said President Wayne Hanley. "The members showed tremendous strength and determination in making their voices heard through this process. Their participation and input were instrumental in empowering our bargaining committee to secure many gains."
Union Rep Ric Pereira thanked the committee for their hard work.
"Upon ratification, I am very proud of the many members who stepped forward during this extremely challenging process and ensured their voices were heard," said Pereira.
Pereira led negotiations. The bargaining committee was also composed of Director (Western Region) Brian Reid, Union Rep Kevin Bacon, and members Greg Douglas, Craig Duffield, Tim Rozman, Jamie MacNaught, Tom Micallef, and Chris Wilson.
Member Sarah Goode said she was happy about the improvements to benefits like physiotherapy, chiropractic services, and orthotics.
"It's a physical job and I appreciated the gains to benefits—any help to cover these, the better," said Sarah. "Overall, I'm pleased with the deal—these guys worked hard."
Derek McNaughton, a union steward, said the new contract provided members with more ability to deal with cost of living.
"This contract helps members with the increasing costs of living, including rent, groceries so they are not living pay cheque to pay cheque," said Derek. "I know the committee did well and I'm proud of the work they did."
Tom Micallef, a member of the bargaining committee, said he was pleased with the many gains they achieved
"This is a great deal with big gains to wages and benefits," he said.
Member Don Hopkins said he had no issues with the agreement, from the wage increases to the change to 9-days for vacation scheduling.
"I thought that change was great and will really help our members."
Highlights of Agreement
Immediate wage increase (end rate wages) of $1.50 retroactively to January 28, 2017, with an additional increase of $1 effective January 28, 2018.
Immediate increases for those in the wage progression up to $3.65 per hour.
$4 per hour wage increase during the term of the contract
Introduction of physiotherapy/chiropractic services/orthotics during the agreement to a total of $750 per year
25% increase to the maximum long term disability (LTD) payments phased in during the term of the agreement to $2,500
Job Guarantee over the term of the agreement.
Early Retirement Package offered in every year to anyone who reaches 55 years of age (only qualifier)
Protection for those on medical and maternity leave relative to the Closure Language and Early Retirement Package
Dependents covered on benefits to age 25
Two Floater Days renamed as Personal Days and increased to three
Carrying seniority when forced out of department
Increased numbers of those who may be on vacation during any given week during certain parts of the year
View the complete gallery on Facebook.