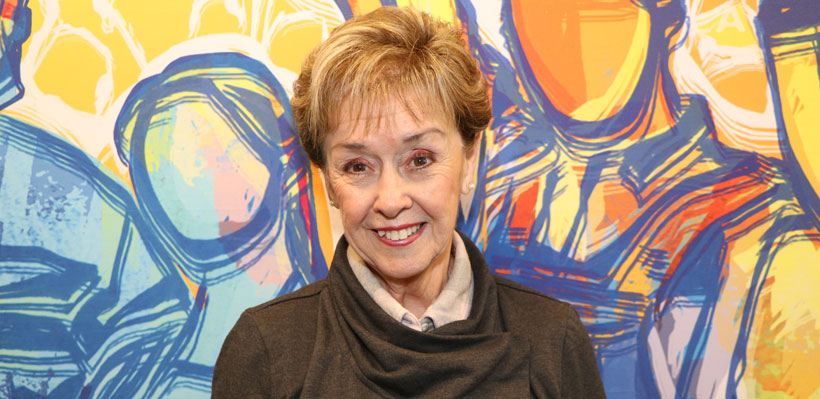 Nancy Prout's strength as a steward comes from her unrelenting dedication to her co-workers and community.
From Light the Night events to Take Back the Night to Leukemia Golf Tournaments, Prout shows up every year to support her union.
At work, she is always organizing events, to raise money for local shelters and promote awareness of the union.
"My inspiration comes from within and the desire to make a positive difference and share union knowledge with our members," said Prout, who works at the Whitby Superstore.
Inspired by her union rep Carla MacFarlane, Prout became a steward 13 years ago. Since then, Prout has helped out members with everything from scheduling to seniority to harassment issues.
"I saw the lack of respect shown to our members and I felt motivated to strengthen awareness, equality and dignity within our workplace," said Prout, who is also part of the Joint Health and Safety Committee and the Women's Issues Network.
As a steward, she works on "really listening," taking detail notes and investigating.
"When a member trusts and has confidence in my ability, they know I will act on their behalf to protect their rights under our union contract."
She loves making a difference.
"Providing help and assistance to our members leaves me with a sense of gratification and pride knowing the members have trust in my abilities to answer their questions and provide support."
While she is not at work, she has taken several stewards' courses, webCampus courses, and attended union conferences to improve her skills to better help her co-workers.
"Knowledge is essential to building a positive and strong relationship between the members and the our union," Prout said. "These courses have given me the tools I need to guide me through challenges at work and in my personal life."
Prout credits the union with making a difference in her life.
"My union has encouraged me to have a strong voice for our members and communicate with confidence – I am proud to be a 1006A steward."