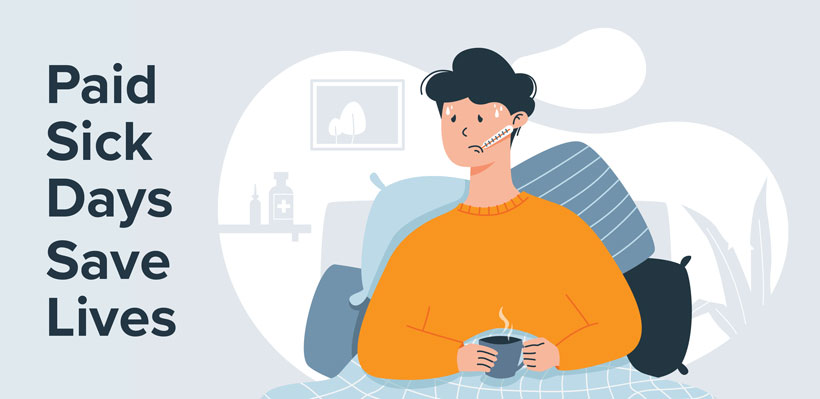 Throughout the pandemic,
the Ford government repeatedly refused
to provide workers the tools they needed to keep
themselves and their co-workers safe.
Your union continues the fight.
All across Ontario, workers are joining the movement for 10 paid sick days.
"It's important our government leaders put paid sick days at the front of the agenda," said Josie Barberi, a 1006A steward and a Vice-President on 1006A's Executive Board. "We are relying on our politicians to keep us safe and they need to do better. They call us heroes and essential—but the very least they can do is protect workers by giving us paid sick days."
Natasha Grey, a 1006A steward and a Vice-President on 1006A's Executive Board, said workers are less likely to come in sick, and potentially spread a virus if they have paid sick days.
"10 paid sick days would have made a huge difference for all workers, because we wouldn't have to worry about losing pay while we are sick," she said.
Josie and Natasha are part of the growing movement of Ontarians, making their voice heard on the issue of paid sick days.
Since the beginning of the pandemic, unions, medical experts and community allies have called for the government to legislate 10 paid sick days to reduce the spread of COVID-19. This call has largely been ignored by Premier Ford and his government. In fact, the Ford conservatives eliminated the two-paid sick days workers had when they first took office.
"Paid sick days will save lives in Ontario, and we need our employers and the government to act to protect our members and all workers," said President Wayne Hanley.
Even after seeing the impact of each wave on Ontario's workers, the Conservative government refused to budge or listen to health experts or even the mayors of Canada's largest cities, who also echoed the calls for paid sick leave.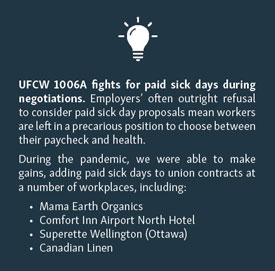 "Access to 10 paid sick days for workers in Ontario would have very simply reduced the spread of COVID in the workplace and saved lives," said Katrina Miller, Program Director at The Broadbent Institute. "Workers without access to sick days have reported going to work with COVID-like symptoms because they could not afford to lose income, shifts, or in some extreme cases their job."
In Canada, the Decent Work and Health Network reported that 58 per cent of workers do not have paid sick days. The report notes that those being denied sick days need them the most, including those working in low-wage, precarious jobs who are disproportionately women, Black and racialized and workers with disabilities.
"Ten sick days would mean that we can really heal physically and mentally," said Diane Wilmot, a 1006A steward. "In Ontario, workers are not able to stay home when they are sick and heal because they have bills to pay and because they are afraid of the repercussions of staying home."
Miller said Ontario would have experienced a much smaller second wave and would have either significantly reduced or potentially avoided the third wave if workers had 10 paid sick days. "With less workplace transmission, we would have had less community transmission and the overall reduction may have allowed us to take less drastic lockdown measures," she said. "For example, we may have been able to keep children in classrooms for much more of the year."
With their big business donors, the provincial Conservatives in Ontario have been reluctant to move forward. They have repeatedly rejected the idea of paid sick days for workers in Ontario in vote after vote.
Rechev Browne, a 1006A steward, was among those who were advocating for Bill 239: Stay Home if You Are Sick Act, which included 7 permanent paid sick days and 14 additional paid sick days during health emergencies. This bill failed due to the Conservatives' unwillingness to listen to workers.
Having paid sick days gives workers security, Browne said.
"You don't have to worry about being reprimanded by employers or losing income required for groceries for the week and your rent for the month."
After public pressure and the death toll increasing during the third wave, the government finally agreed to implement three temporary paid days. These sick days are set to expire in September. The problem with this is that workers do not only get sick during a pandemic.
"Paid sick days are quite simply a critical aspect of a healthy workplace and a healthy community," Miller said.
She said paid sick days need to be a permanent feature of our workplace regulations in Ontario. "They should be paid for by the employer who stand to benefit the most from a healthy workforce."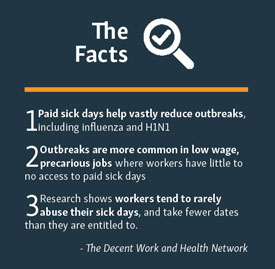 Pramie Ramroop, a 1006A activist, hopes 10 paid sick days will become a reality in Ontario.
"For myself and my co-workers, 10 paid sick days will give us the time to get rest and get better when we are unwell, remove mental and physical stress instead of feeling unwell and ignoring the symptoms," said Ramroop, whose whole family worked on the frontlines throughout the pandemic.
"We will continue to fight for paid sick days for all workers at the negotiations table and in the halls of government," said President Hanley. "Workers deserve the tools to ensure they can keep themselves and their communities healthy and safe."