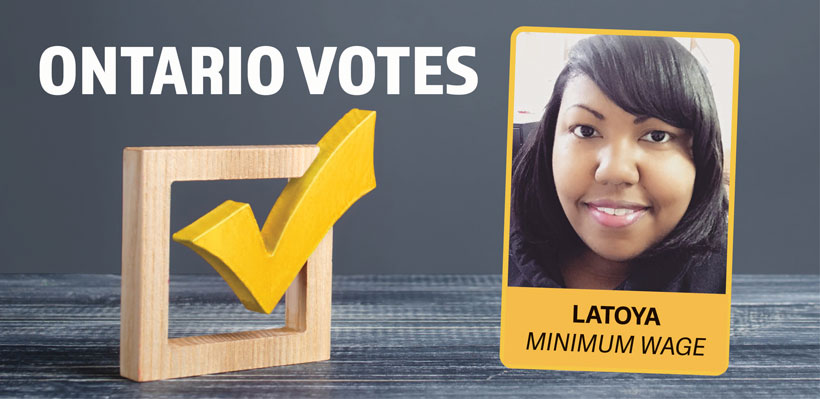 Ahead of the June 2 provincial election, 1006A is featuring our members' thoughts on the issues that are important to them and their families. Your union encourages you to learn more about where each party stands on the issues and to get out and vote in your riding. Every vote makes a difference.
Today, we feature member Latoya from No Frills speaking about the importance of raising the minimum wage.
With the cost of living and housing skyrocketing, life is becoming more difficult for workers. Labour unions and community organizations are at the forefront of advocating for raising the minimum wage. Additionally, UFCW 1006A was pushing employers and the government to make pandemic pay permanent.
The Ontario Federation of Labour recently welcomed the NDP's pledge to raise the minimum wage to $20 per hour by 2026.
The Ford government cancelled the planned minimum wage hike after the 2018 election. The increase would have resulted in a minimum wage of $15 an hour in 2019. Instead, the minimum wage only increased to $15 an hour in January 2022, and is slated to rise to $15.50 in October 2022.
Workers in Toronto need to make $22.08 to afford the basics, according to the Ontario Living Wage Network and CTV News. In Halton, it is $20.75 and in Peel, it's $19.80.
Here is what Latoya had to say about the minimum wage:
"In my opinion, you cannot separate the minimum wage discussion without also bringing up housing. They (Ford government) went on television claiming to say we are essential, we are needed— and yet to pay us in a way that we could actually afford to live in this city, well that's an offer they (Ford government) would only dangle around at elections. Even then, when the Liberal government got it through, Ford and PC government took it away as soon as he was in. Now he wants to dangle the carrot as he runs again? Meanwhile, minimum wage stays below a living wage, and the housing market rises. Even if you look at rent these days, the lowest rent you can pay without having to share a dwelling with more than two people is $1,200, which we all know with all your other bills and feeding yourself could not be done on a minimum wage salary."