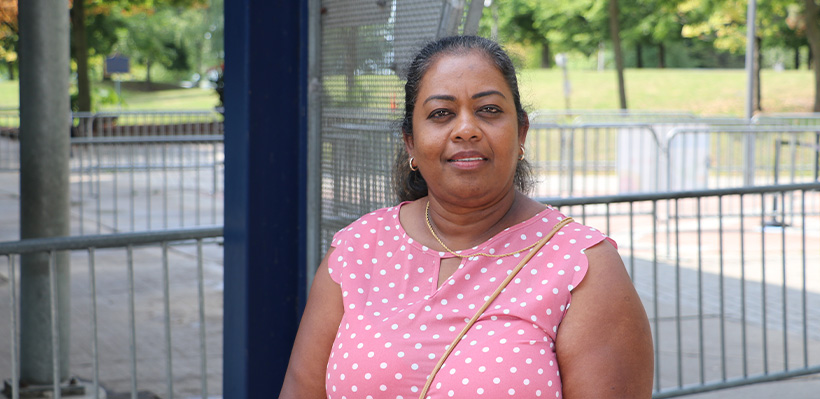 UNIONIZATION PROVIDES GREATER PROTECTION AGAINST INFLATION
As inflation soared, 1006A member Annie Sundar is one of the millions of Canadians who decided to scale down their spending.
"We took a hard look at what we choose to spend money on," said Annie, a steward and a member of the local union executive board who works at a Superstore.
Instead of visiting family and friends in person, Annie now uses the Facetime app more to talk so she can save money on gas.
"It has been hard on me not seeing family as much because we are a very close family and used to meet up every weekend at each other's home," she said.
"However, with gas prices going up, we do not do that as often."
The high inflation has also affected her food choices.
"We have cut down on eating out and are cooking more homemade meals. At the grocery stores, we instead focus on buying the items we use the most, from eggs, milk, potato, flour and meat instead of going out."
In light of the rising prices, Annie is thankful she has union representation.
"Having a union has protected me – my job is secure because of the union and I'm grateful to have a paycheque to take care of my family at this trying time."Inflation in Canada has skyrocketed since May 2020, when it was -0.4% to a peak of 8.1% in June 2022 – which was a 39-year high. Most recently, inflation was 7% while the target for economists is keeping inflation at 2%.
Rising gas and food prices are major contributors to Canada's inflation rate.
Statistics Canada reports that nearly 75% of Canadians reported that "rising prices are affecting their ability to meet day-to-day expenses such as transportation, housing, food, and clothing." About 25% of Canadians reported that they are likely to obtain food from organizations like food banks, faith-based organizations, school programs and community gardens over the next six months.
Natasha Grey, a steward and a member of the local union executive board who works at No Frills, said she is worried about the impact of rising prices on working families.
"I am worried because the middle-class is not going to be able to afford food or provide for their families," said Natasha. More people will look to food banks or gift cards to help them."
For Natasha, having a union job has provided her significant protection against the rising costs.
"I am so thankful for my union—having a union job protects me with job security and hours so I can provide for my family."
In order to control inflation, the Bank of Canada continues to raise interest rates. Critics, however, are not thrilled, warning that interest rate hikes could negatively affect the economy.
According to a historical analysis done by the Canadian Centre for Policy Alternative, historical hikes in interest rates with the aim of bringing down inflation often led to a recession and job losses.
While workers' wages are failing to keep up with inflation, research also shows that corporations are reporting soaring profits as they emerge from the pandemic. The analysis shows that it is not workers' wages contributing to inflation but corporate profits.
Recently, the Bank of Canada governor Tiff Macklem stated that companies should not expect inflation to remain high and advised them not to build higher wages into contracts. The labour movement was outraged by his statements, and saw it as a way to undermine workers' collective bargaining power.
Currently, labour unions across Canada, led by the Canadian Labour Congress, are also urging government officials to act and add new measures to protect vulnerable workers and their families affected by the inflation crisis.
"I am worried because the middle-class is not going to be able to afford food or provide for their families."
The CLC called for an increased GST credit for families and urged governments to make it easier for workers to join unions. The Trudeau government, in response to the challenges, has boosted the GST tax credit.
"Workers and their families are struggling under the pressures and stress of rising prices while corporations continue to see their profits climb higher and higher," said President Wayne Hanley.
"Our government leaders need to do better. That begins with making it easier to join a union. Union representation is vital in protecting workers' rights and livelihoods through the most challenging times," said President Wayne Hanley.
As for Annie, she continues to be worried about how high the prices will go.
"My heart breaks for the seniors and other people on a fixed budget because they have to decide between whether they can afford to eat or pay the bills."