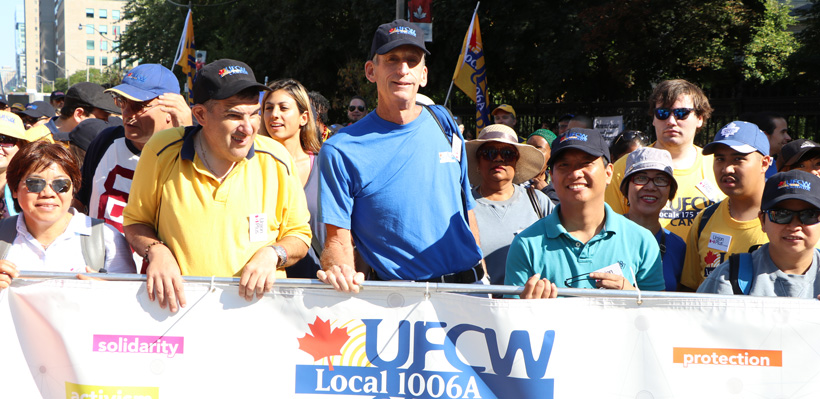 UFCW Canada Local 1006A flags flew high over downtown Toronto as members and staff joined thousands of marchers for the annual Labour Day parade.
The September 5 march started at Queen St and University Avenue and ended at the Canadian National Exhibition. Members received 1006A sweatshirts and access to the CNE by marching with the local union.
Members also celebrated Labour Day in Hamilton, Sarnia and London.
"Labour Day is an opportunity for union members to come together and advocate for a fair and just society for all," said Wayne Hanley, President of Local 1006A. "The labour movement plays a critical role in making life better for working families across this country, creating safer workplaces and helping workers win rights at work."
First observed in 1872 with the Toronto printers' strike, Labour Day is now marked in communities across Canada. Labour Day is a time to celebrate the tremendous contributions labour movement has made to building our country, from advocating for universal health care, vacation, 8-hour workday, sick days, to health and safety standards and much more. Today as in the past, unions continue to be at the forefront of fighting for a fairer and more just society, whether it be advocating for eliminating the gender wage gap, progressive childcare policies for families, or lower tuition rates for students.
Matt Kimmerly, who is from Enzo's No Frills, brought his family to the Toronto parade, including 15-month-year-old Erik.
"Marching in the parade is about showing that Toronto families are stronger with the union," said Kimmerly. He said having a union job means job security so he can go on parental leave without any worries.
Annie Sundar, who works at a Mississauga Superstore, came with her husband to the Toronto parade.
"For me, Labour Day is about celebrating the solidarity and strength of the union movement," Sundar said.
"It means a lot to see so many people coming out and supporting the labour movement," said Tachani Bishop, who works at a Loblaw store. "Today is about empowerment and coming together for the greater good."
In London, members and staff attended the Labour Day picnic at Thames Park put on by the London District Labour Council. Members helped arrange food and drinks for the event and served attendees. In Hamilton, members marched in the parade and took part in the city's annual Labour Day parade and BBQ. Members also came together for Labour Day in Sarnia.
Thank you to everyone who volunteered and participated in Labour Day events across the province!