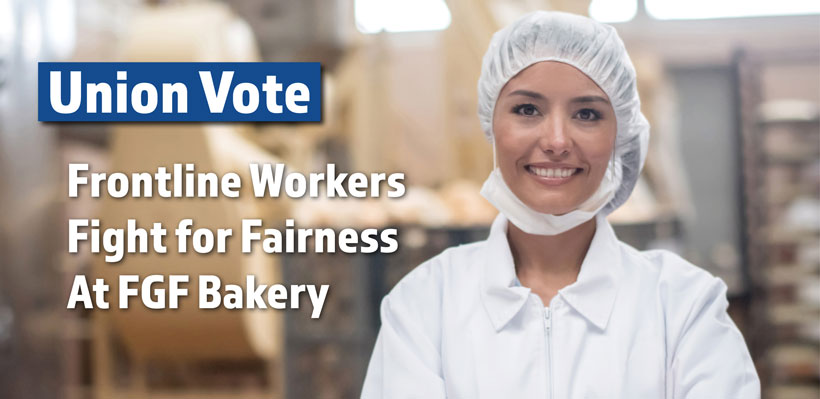 Long before the COVID-19 pandemic, before food workers were commonly called essential or frontline, FGF workers reached out to join our union.
They knew joining a union could provide them with job security, wage & benefit improvements, and stronger health & safety protections. Their employer didn't like this idea.
FGF immediately launched an aggressive and sustained anti-union campaign, attempting to divide and distract workers from making the improvements they were looking for. UFCW quickly filed charges at the Ontario Labour Relations Board. It took 21 days of hearings, and nearly three years to have the Labour Board rule what we already knew – FGF broke the law.
When employers break the rules, our union does whatever is required to protect workers and uphold the hard fought labour rights won by the generations who have come before. The Labour Board ordered that a secret ballot vote take place, allowing FGF workers an opportunity to confidentially vote for union representation – that vote will take place this month.
Throughout the COVID-19 pandemic, FGF workers have done their part. Facing a number of workplace outbreaks, they continued to bravely come to work, ensuring that Canadians have access to a stable and secure food supply. As cases reached into the hundreds, their workplace became subject of a Toronto Star story.
This month, FGF workers have the opportunity to write a new, more hopeful story. They can vote for job security and to make their workplace fairer – they can vote YES for their union.
UFCW stands with FGF workers in their fight for fairness. We say no to precarious work, and yes to job security. No to dangerous conditions and yes to stronger health and safety protections. We say yes to workers having a meaningful voice at work.
Standing united, workers reject fear and signal their hope and optimism for a better future. We look forward to the opportunity to welcome FGF workers into our union family.
___________
Contact a Union Organizer