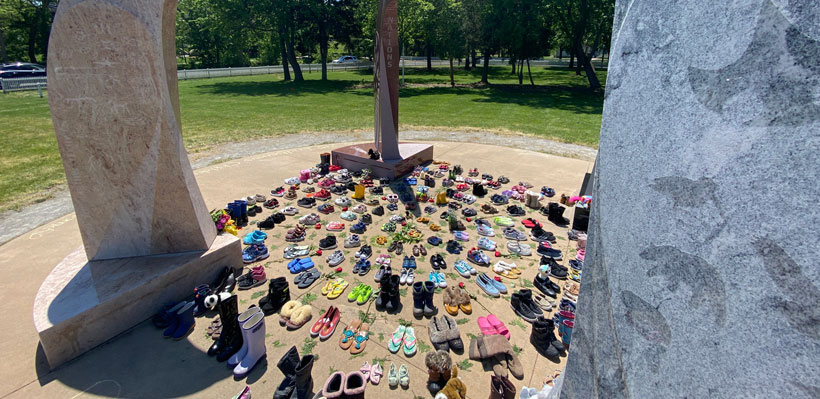 As we mark National Indigenous History Month this June, we remember and mourn for 215 children whose remains were discovered in a mass grave at a former residential school in British Columbia.
"Our hearts break for their families, loved ones and the whole community," said President Wayne Hanley. "We stand in solidarity with our sisters, brothers and friends in the Indigenous community in calling for justice and mourning the victims. The residential school system devastated families and communities, aimed to erase Indigenous people and culture and unleashed a cycle of pain and destruction that continues to this day."
The children's remains were found on the grounds of the former Kamloops Indian Residential School. Started in 1883, Canada's residential school system lasted for more than 100 years until 1996 and separated more than 150,000 children from their families.
At these schools, children faced the realities of forced assimilation, physical and sexual abuse, neglect, poor living conditions, malnutrition, disease, poor quality education, degradation and the elimination of their culture and languages.
As the Truth and Reconciliation Commission reported, the long-term consequences of the Canadian government's actions, or lack there of, towards First Nations communities has been staggering, including: lack of clean water, poor housing, lower life expectancy rates, significant wage gaps, higher unemployment rates, health problems and illness and higher incarceration rates.

Many of these issues, the commission reported in 2015, are directly the result of the residential school system.
National Indigenous History Month is about marking the history, heritage and diversity of First Nations, Inuit and Métis peoples in Canada.
"We encourage our members to do their part and learn about the issues faced by First Nations, Inuit and Metis people in Canada, and be an ally in working towards change, accountability and justice," said President Hanley.
Gloria Elstone, who works at Grail Springs Spa & Wellness Centre and is a member of UFCW Canada's Indigenous Sub-Committee, will be among those marking the month.
"This month, I challenge you to learn about Indigenous culture and issues, how you can honour Indigenous people as stewards of the land," said Elstone. "I'd like to thank UFCW Canada for helping our Sub-Committee continue our work of connecting with Indigenous people in the workplace and letting them know, you are not alone, you have family and culture here and ensure more people are educated from an Indigenous perspective."
HELPFUL RESOURCES

Truth and Reconciliation Commission
Learn the Stories of Victims of Residential Schools

National Inquiry into Missing and Murdered Indigneous Women and Girls

Safe Water for First Nations