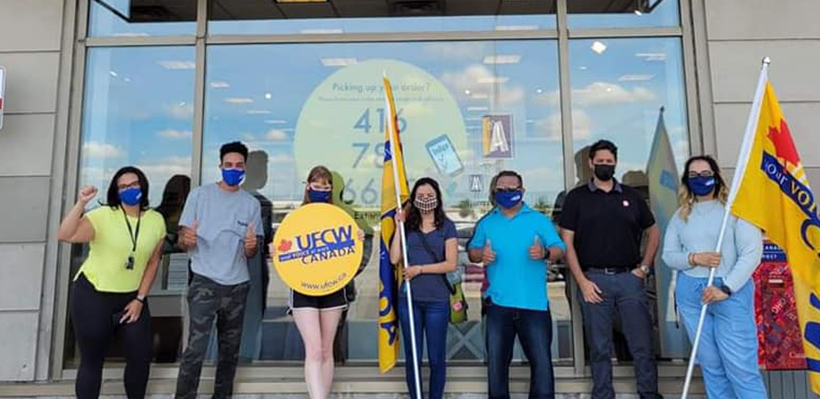 Indigo workers across Canada are continuing to win union representation, with our newest members at Indigo Yorkdale Mall in Toronto becoming the latest group to join UFCW Canada Local 1006A.
UFCW 1006A currently represents workers at Chapters Woodbridge and Indigo Square One.
"This whole thing has been about bringing each other up and bringing each other along, equalizing and not leaving people behind," said Greta Whipple, who works at Indigo Yorkdale.
"Honestly, it was one of the most exhausting and rewarding experiences in my whole life," Whipple said. "I cannot believe how fast minute to minute, everything changed, it would have been literally impossible to do without the UFCW organizers and the support of the CERs (Customer Experience Representatives) of already unionized stores."
The vote took place on August 16 and 17 and key issues included achieving fairness, being treated with respect and dignity and having workers' rights protected in the workplace. The bargaining unit is composed of 51 members.
"The momentum is growing for Indigo/Chapters workers who are increasingly turning to UFCW 1006A to improve their working conditions and create a fairer workplace," said President Wayne Hanley. "I'm proud to congratulate our newest members from Indigo Yorkdale – this is the beginning of an exciting new chapter and shows when workers are united, they have power to transform their workplaces and their lives."
Our newest members work as Customer Experience Representatives (CERs), performing a variety of tasks including working cash, assisting customers, placing orders and stocking shelves.
"It is incredible and inspiring to see retail workers unionizing and stand up for themselves and help raise the standards for all retail workers," said Lesley Prince, Director of Organizing for 1006A.
If you are interested in joining a union, please contact our union organizers.
Resources
Chapters Woodbridge Workers Achieve New Contract
Indigo Square One Workers Make Gains in New Contract