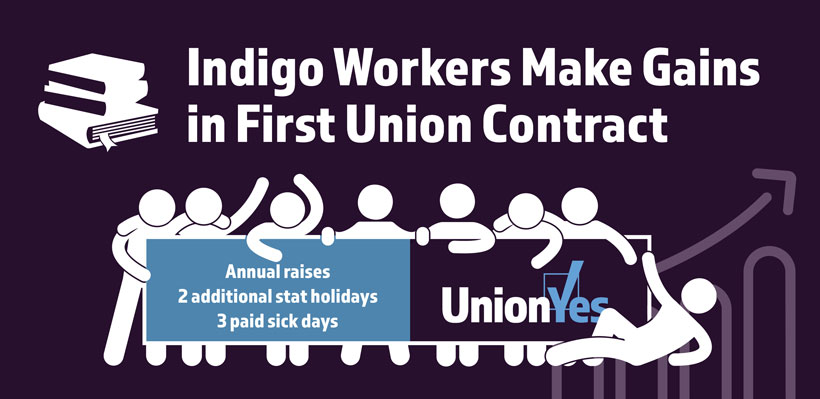 After voting to join UFCW last fall, Indigo Square One workers have ratified their first union contract.
"With the contract, we gained a significant amount that we didn't have before," said Zaarin Bushra, a bargaining committee member. "I am happy with it and it's a good step forward. It's always hard to negotiate a first contract."
The term of the two-year contract is from May 5, 2021 to May 4, 2023.
"We are proud to be the voice and home for Indigo workers seeking fairness, respect and dignity at work," said President Wayne Hanley. "With this first contract, our members at Indigo have achieved a strong foundation to build on for the future."
Negotiations were led by Union Representative Dustin Magee, with support from Union Representative Joe Blythe and members, Meagan Caicedo and Zaarin Bushra.
"I hope in the future, we can gain more and have a contract that meets more of the needs of the membership," said Bushra.
Contract Highlights
Annual raises + minimum wage increase protection
2 additional statutory holidays
3 paid sick days
Strict limits on sanitation duties
Eliminate favouritism through strong seniority language