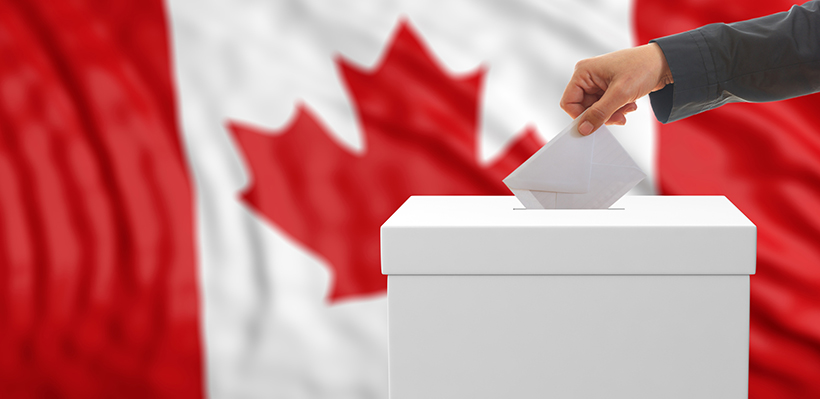 With the federal election scheduled for September 20, 2021, UFCW 1006A encourages our members to read each party's platform and vote.
Voting is vital because elections affect our lives, from our universal healthcare system to affordable childcare to the economy and jobs.
"Your voice matters and your vote matters," said President Wayne Hanley. "The lives of workers and their families are impacted everyday by the decisions politicians make, whether it's regarding healthcare or childcare or the economy. Your vote is the most powerful tool you have to create positive change on the issues that affect your life. This election, I strongly encourage you to vote because much is at stake for working families."
Your union continues to advocate for worker's rights at Queens Park and Parliament Hill. Our national office is at the forefront of these issues, talking to MPPs and MPs and ensuring our members' voices and concerns are heard.
As part of our recent telephone town hall, we spoke to Mark Hennessy, Special Assistant to the National President at UFCW Canada, about the issues at stake for working families. Here is an excerpt from our discussion with Mark.

UFCW 1006A: What do you see as the top three issues our members should be aware of before heading to the polls?
Mark: Many Canadians are continuously navigating both the health and economic crisis, which has also led to heightened job insecurity. Workers will need to prioritize their concerns regarding affordability of the cost of living and healthcare.
The New Democrats have continuously pushed for assistance programs to be extended or expanded further. Additionally, the most recent UN climate report has amplified the ongoing concerns many Canadians have regarding the climate crisis. Workers will need a government and political leaders with the political will to act on climate change.
If you were to just ask what's coming up in our polling? Number one is the economy and jobs. Number two is healthcare. Number three is poverty and social inequality. And number four is the environment climate crisis.
UFCW 1006A: Can you elaborate a little bit on where each party stands on these issues?
Mark: Let's look at first economy and affordability. The NDP wants to introduce a targeted debt forgiveness program that will forgive up to $20,000 in student debt, implement the guaranteed livable income for seniors and Canadians with disabilities. The NDP will encourage the construction of affordable homes by waiving the federal portion of the GST/HST on construction of affordable rental units. They would like to create at least 500,000 units of affordable housing. They will impose a 1% tax on households worth more than $10 million, so the ultra-rich pay their fair share, as well as increases for those in the highest tax bracket. It's just under 1% for those that make more than $216,000 a year.
The Liberals hope to establish a $15 an hour federal minimum wage that will rise with inflation and they hope to expand the EI sickness benefit from 15 to 26 weeks.
The majority of the Conservatives' incentives are mainly geared to the employer-side or large corporations.
On the issue of healthcare, the NDP will introduce reforms to the long-term care system. They will implement enhanced mental health coverage, which really means providing access to uninsured Canadians. They will also introduce national pharma-care and dental care programs within the first term.
Liberals will invest $3 billion over five years starting in 2022, for long-term care homes, $100 million over three years for the Public Health Agency of Canada for mental health projects aimed at helping populations, the most impacted by COVID-19. This includes frontline workers and racialized Canadians.
The Conservatives were weak on this point. I think they're a little bit better now, but they initially were just mainly leading with the creation of a nationwide three-digit suicide prevention hotline.
With the issue of climate change, the NDP hope to create good jobs in all regions, done with green infrastructure investments. They'll support transit by permanently doubling the Canada community-building fund, developing a public inter-city bus program, and then enshrining and lobbying for an environmental bill of rights, which will protect 30% of land, fresh water and oceans by 2030.
The Liberals are leading with aid for clean energy technology projects or infrastructure.
The Conservatives are implementing a national personal low carbon savings account, which means a carbon pricing scheme that will see Canadians paying a surcharge when they buy consumer fossil fuels. Then, that money will go into a savings account earmarked for green purchases in the future.
UFCW 1006A: One of the key issues in this election is how the COVID-19 crisis was handled by the Liberal government. Their response has been criticized by the NDP and the Conservatives. What were the issues raised about the Liberal government's response?
Mark: The opposition parties have been critical of the government's economic measures. With the Conservatives raising concerns about the deficit and the New Democrats continuing to push for the assistance programs to be extended or expanded further for working people. Our main concern is that we're still in the middle of navigating this crisis. Despite the increase in double vaccinations, we continue to see an increase in COVID-19 numbers as we are already in a fourth wave. The Liberal government has spent hundreds of billions of dollars on providing support, which is good. However, much of that support was being put or is being put towards bailing out businesses and not enough to support workers.
UFCW 1006A: Based on each party's policies, what do you think will have the most impact on working families in Ontario and Canada?
Mark: The platform proposed by the NDP will have the most positive impact on working families in Ontario and Canada. While some critics have pointed out that the platform has some similarities to the one that they introduced in 2019, it's important to point out that the priorities of Canadians have changed drastically because of the global pandemic. In other words, proposals such as universal pharma-care, the dental program, mental health care programs and living income programs for those who need it most and paid for by the ultra-rich. It may sound familiar, but this COVID-19 health crisis has exposed and exacerbated the concerns and the needs of Canadians and their ability to access quality public services. As we move forward in this election, we need a government led by those who prioritize the needs of workers and everyday Canadians.
1006A: What is UFCW Canada's and the labor movement's message to workers as we head out of this pandemic and into this election?
Mark: UFCW Canada represents several frontline workers across this country. It was our members who worked throughout this pandemic and contributed to the ongoing functioning of food, retail, manufacturing, meat processing, long-term care, and home care and security service industries. What has been clear throughout the global health crisis is that we don't only need appreciation and acknowledgement of the contribution of workers and our members, but also safe and healthy working conditions and to be well paid.
For this election, we need a change in government. We need a government led by New Democrats, in my opinion, who are bold enough to set the example of what access to decent work and quality public services can look like across our provinces. Even if you disagree with my analysis, that's okay. But one thing remains clear. The most important thing our members can do in this election is to vote. Please make the time to vote. There will be a number of opportunities even prior to e-day, or you can always request to have a ballot sent to you, to vote by mail.