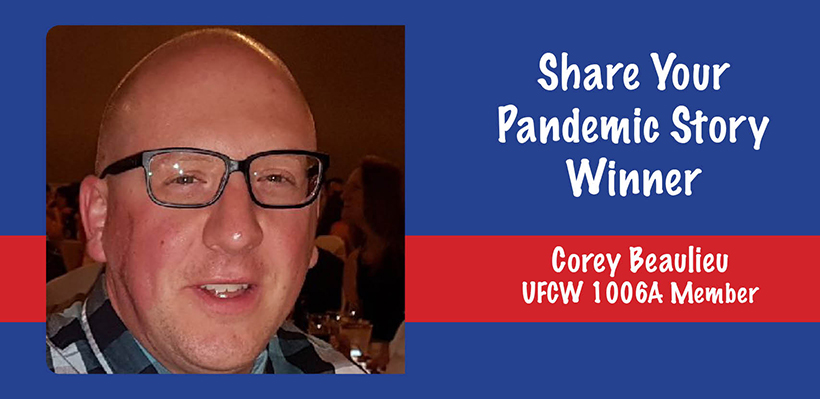 UFCW 1006A member Corey Beaulieu, who works at No Frills, is one of the winners of our Share Your Pandemic Story contest! Congratulations Corey!
Your union is awarding 20 prizes – worth $250 each – to members whose entries are selected in the Share Your Pandemic Story contest.
There is still time to submit your entry. Deadline is October 28, 2021
Here is Corey's story.
"What a rollercoaster ride it has been for my family throughout this pandemic. My wife and I are both frontline workers – My wife is a RPN at local hospital and myself being the meat designate at No Frills #275.
At the beginning with very little knowledge of the virus and its effect on people, I was sleeping on a mattress in our living room since we were both in contact with people so often. We would take our uniforms off in the garage and leave them in there wearing a new one every shift. Once in the house we would disinfect our phone, wallet and keys daily. Then having to go into work and still perform your job to best of your ability dealing with multiple product shortages, delivery times delayed by hours, sometimes days and the general public in panic mode shopping.
Thankfully, we weathered the storm and life is somewhat back to normal now but I'll never forget the events over the last 18 months."
Share your pandemic story. You can submit your entry today. Deadline is October 28, 2021