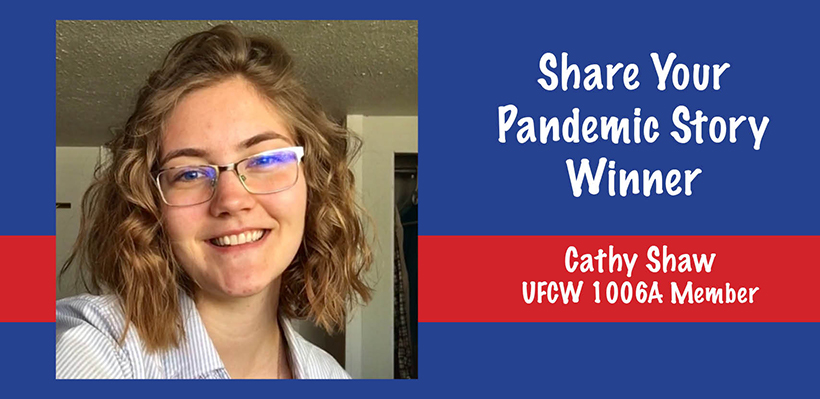 UFCW 1006A member Cathy Shaw, who works at Parker's YIG, is one of the winners of our Share Your Pandemic Story contest! Congratulations Cathy!
Your union is awarding 20 prizes – worth $250 each – to members whose entries are selected in the Share Your Pandemic Story contest.
There is still time to submit your entry. Deadline is October 28, 2021
Here is Cathy's story.
"When Covid first hit I remember seeing the shelves empty. The back wall of the bakery was visible and in my near 7 years here, I was shocked by how much had sold in such a short time.
I was working the Friday my university announced they would be closing and for the rest of the semester and we were going to be online. I could've sworn every break I went on that day something major had changed.
I'll be honest working in a Grocery store I suspected it wouldn't be long until I had covid myself with the exposure we had, but to my surprise I didn't.
It wasn't until around a year later that I ended up in lockdown with my roommate, with COVID. It was an interesting few weeks. But it made me appreciate my job.
As much as being a customer service employee during a worldwide pandemic sucks, I still got to see my coworkers every day.
My heart goes out to everyone who was in full isolation without anyone for months on end at the beginning of this all. I honestly don't know if I could've made it through without the banter and friendly 'we understand what it's like' from my coworkers and friends here."
Share your pandemic story. You can submit your entry today. Deadline is October 28, 2021