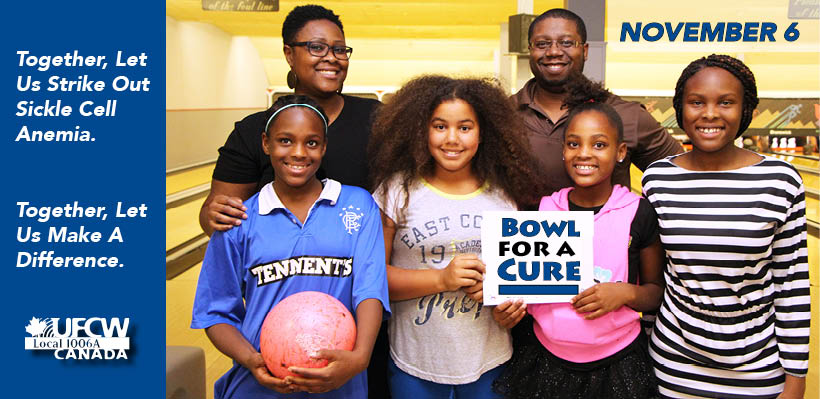 You, your family and friends are invited to take part in 1006A's Bowl for a Cure on November 6, 2016 to help raise awareness and funds in the fight against Sickle Cell Anemia. Join us for an amazing day of bowling for a good cause.
The event will take place at Rexdale Bowlerama (115 Rexdale Blvd, Toronto, Ontario, M9W 1P1) from 11 a.m. to 3 p.m.
Cost: $150 for Team of Six (Lunch & Shoe Rental included, Two Games (Best of Two) - 10 Pin Lanes)
To register & receive your pledge form, please contact Jonathan Lobo at This email address is being protected from spambots. You need JavaScript enabled to view it. or 416.459.5077.
Hereditary in nature, Sickle Cell is a blood disorder which leads to red blood cells getting stuck in the blood vessels. As a result, much-needed blood and oxygen gets blocked from vital organs (including the lungs, heart, kidney, liver and much more).
The Sickle Cell Disease Association of Canada estimates that up to 1 in every 2,500 babies will be born with the disease in this country. The association further reports that 3,500 to 4,500 people in Canada have been diagnosed with the disease.
All funds raised by Local 1006A goes to Faces of Our Children, an organization that raises awareness, support and funding for this important fight.