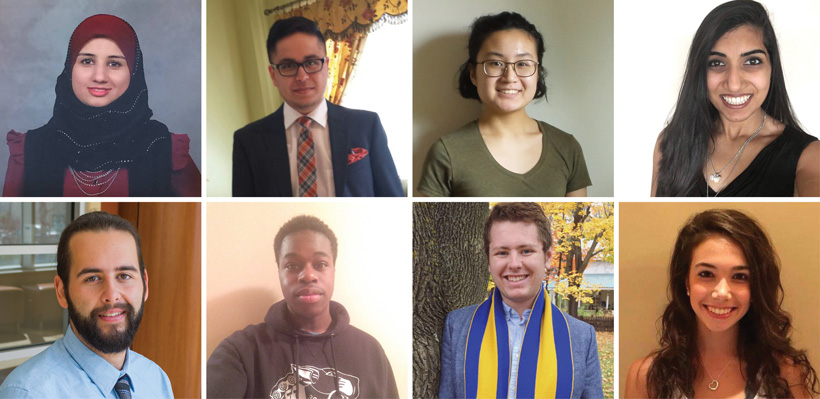 UFCW Canada Local 1006A is proud to congratulate the confirmed recipients of our Scholarship Program. Forty-two scholarship, worth $500 each, will be awarded to 1006A members or children/dependents.
"As Ontario's best union, we are proud to offer a huge Scholarship Program that helps working families cope with the high costs of tuition," said President Wayne Hanley. "Every student deserves the opportunity to pursue their dreams and we are proud to do our part to help our members and their children in this journey."
Anthony Dalla Bona, who is studying Business Administration at the University of Windsor, is one of this year's scholarship recipients.
"The UFCW Canada Local 1006A Scholarship presents an amazing opportunity to empower its members by enabling one of life's greatest tools: education," Anthony said. "By lightening my financial burden, the scholarship has enabled me to focus more on the most important aspect of school; learning. This generosity has truly inspired me to help others and give back to the community. I hope one day I will be able to assist other students in achieving their goals just as you have helped me."
Applications for 2017 are being accepted. Apply online in minutes today!
Genna Gibson, who studies at Ryerson University, said she was honoured to be selected as one of the recipients. She said the scholarship will help her with the cost of essential materials needed for her program.
"Dance has always been a big part of my life, and being able to pursue my passion at Ryerson University fills me with gratitude," Gibson said. This scholarship means a great deal to me, knowing that I am able to continue to go to school to study something that I love.
William Logan, who is studying English at the Trent University, is also another recipient.
"This scholarship means a lot to me because it will allow me to purchase all my textbooks for next semester which is a huge financial burden. Receiving this scholarship will alleviate a great deal of stress in my life and provide me with the opportunity to focus my resources and energy on successfully completing my courses to the best of my ability. This scholarship will make an indelible positive difference in my life!"
Aneer Sherif, who is studying Business Administration at Wilfred Laurier University, said this scholarship would give him the tools and necessary equipment such as textbooks to succeed in university.
"The whole point of going to school is to learn and excel however if you do not have the money for books you would be at a great disadvantage," said Sherif. "The scholarship also allows me to focus on my studies, as I do not have to constantly think about how I am going to pay for my next invoice or next textbook. It offers me a piece of mind and levels the playing field amongst my peers as I would not need to have part time job that would distract me from my studies."
SCHOLARSHIP RECIPIENTS
AMANDA WALKER, NO FRILLS
AMBER LEDUC, LOBLAWS REAL CANADIAN SUPERSTORE BROCKVILLE
ANDREA MANUE, G & K SERVICES
ANNEER SHERIF (child/dependent of SALAHADIN MAWI, LENSCRAFTERS FAIRVIEW)
ANTHONY BONA, GARDA
ARAW ZOUROB, LOBLAWS REAL CANADIAN SUPERSTORE LONDON
BAILEY GARNER (child/dependent of JO-ANNE SIMMERSON, LOBLAWS GREAT FOOD OTTAWA)
BOIANH NGUYEN (child/dependent of NHON HUYNH, G & K SERVICES)
BRIANNA MCDONALD, LOBLAWS GREAT FOOD OTTAWA
BRIEANNA CALLENDER, NO FRILLS
CARISSA HEWITT (child/dependent of MARIA HEWITT, HILTON GARDEN INN)
CHELSEA ANNE GORDON, YIG
DANIELA PAGLIAROI (child/dependent of FRANK PAGLIAROLI, NO FRILLS)
CRAMER AMOFA, LOBLAWS REAL CANADIAN SUPERSTORE TORONTO
DAMI OMOLOLA, SWISS CHALET
DIKRAN BASHMANIAN, NO FRILLS
DINAH ANKRAH, LOBLAWS GREAT FOOD TORONTO
DRAGOS STEFANOV (child/dependent of VICTOR STEFANOV, SOFINA FOODS)
DYLAN ALICK (child/dependent of SEERAM ALICK, LOUIS DREYFUS COMPANY)
EMILY SCHNOB, NO FRILLS
FENG LE, LOBLAWS GREAT FOOD, TORONTO
GENNA GIBSON (child/dependent of DIANA GIBSON, LOBLAWS GREAT FOOD, RICHMOND HILL)
GREG TROJAN, SWISS CHALET
HANAN SHEIKH (child/dependent of FARHANA HASAN, LOBLAWS REAL CANADIAN SUPERSTORE AJAX)
HARNEIL DHALIWAL (child/dependent of RAJWINDER DHALIWAL, RESIDENCE INN)
HUNTER BRYCE, YIG PETROLIA
JAIMEE STEWART, NO FRILLS
JONATHON ZOLIS, LOBLAWS GREAT FOOD TORONTO
LAURA EARNDEN, NO FRILLS
LAUREN DONOVAN, CINEPLEX
LUCY NGANGA, LOBLAWS REAL CANADIAN SUPERSTORE OSHAWA
MARSEERAT KHAIRA (child/dependent of JATINDER KHAIRA, BOOTH CENTENIAL)
MEREDITH GOW, SWISS CHALET
MOHAMMAD RASHIDI, NO FRILLS
POOJA KRISHEN (child/dependent of MITUL KRISHEN, LOBLAWS REAL CANADIAN SUPERSTORE OAKVILLE)
RYAN MARTIN (child/dependent of ANTHONY MARTIN, TOK TRANSIT)
SHEELAGH ALBERTI, LOBLAWS REAL CANADIAN SUPERSTORE ORLEANS
STEPHANIE ROCHA (child/dependent of MARIA CANTO, MAPLE LEAF PRIME POULTRY)
SYDNEY SLACK, NO FRILLS
WESLEY LOGAN (child/dependent of KRISTI CHATE, NO FRILLS)