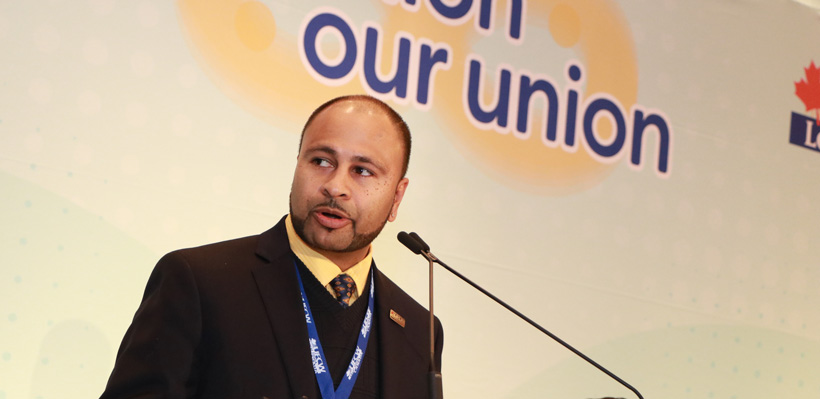 UFCW Canada Local 1006A is proud to congratulate Growth Coordinator Jonathan Lobo on being elected to serve as the new Treasurer/Financial Secretary of the Coalition of Black Trade Unionists – Ontario Canada Chapter.
"1006A is a proudly diverse and inclusive union and we are excited to congratulate Jonathan on his tremendous achievement and election to the CBTU Executive Board," said President Wayne Hanley. "Through community outreach and coalition building, we increase and strengthen our ability to achieve fairness, equality and justice in our workplaces and communities.
Jonathan's history with the local union dates back to 1990 when he was hired part-time at an Ottawa Loblaws store. By 1994, he was a steward and soon afterwards, became one of the first members of the local union's youth network. After 12 years with Loblaws, Jonathan was hired on staff in 2003 as an organizer. The same year, Jonathan became the local union's youth coordinator after completing UFCW Canada's youth internship program. Jonathan is currently the Growth Coordinator, a role he has held since 2008. Jonathan is also an Executive Board member with the Toronto & York Region Labour Council and a member of the UFCW Minority Coalition Advisory Board.
"The labour movement and community need to work together through various coalitions to improve the rights of not just working families, but all families," said Lobo. "I am excited for this new challenge and in recognizing the good work that CBTU does, it will be my honour and privilege to serve in this capacity. I look forward to working with my fellow executive board members in achieving our goals. I'd like to thank my union for their ongoing support and encouragement, in addition to all my supporters for their vote of confidence."