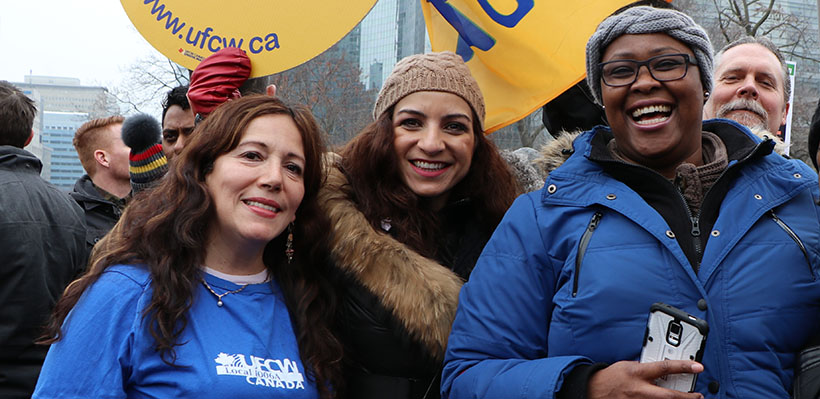 UFCW Canada Local 1006A activists and staff rallied at Queen's Park for a Canada where equality, diversity and fairness thrives and against the politics of hate and discrimination.
The Women's March, which took place on January 21, drew 60,000 participants.
"What happens in the United States has great potential to affect us in Canada," said President Wayne Hanley. "Already, politicians are trying to bring Trump-style politics into our country, seeking to divide instead of unite, seeking to target instead of include, seeking to taint the great Canadian spirit with fear and mistrust instead of showing leadership on everyday issues that affect workers and their families. As citizens, it's vital that we are active in standing up for a fair, inclusive and compassionate Canada where equality and human rights can thrive. Together, let us speak out against racism, sexism and bigotry and strengthen our great country."
Glacier Samuel, 1006A Recorder and coordinator of the Women's Issues Network, helped organize the local union's participation in the event.
"This will be the first time in my adult life that I have seen such hatred towards all groups being accepted and normalized by people of power," said Samuel. "I worry about the welfare of my future and my children's future. If we go by what Trump said during the election campaign, it's going to be an incredibly difficult four years for equity seeking groups, like women, members of the LGBTQ community, people of colour, people with disabilities and many more."