At 6, Molly is already a survivor.
A young girl who battled leukemia and who overcame 200 days and nights at Sick Kids Hospital to now be in remission.
Cara Weizenbluth knows how far they have come in the last four years, from when Molly was in a coma and the doctors told the family, her chances were slim. To this day, it feels surreal, Cara said.
"When Molly was diagnosed, it was shattering," Cara said. "We had two incredibly healthy kids and we were happy and it came crashing down within seconds. It is very hard to accept and it takes time to accept."

Soon after the leukemia diagnosis, doctors found out Molly also had hypopituitarism. The latter causes complications and causes the body to be adrenal and growth hormone deficient. It was like being struck by lightening twice, doctors said.
The three years that followed the diagnosis were intense, with several surgeries, chemotherapy, including IV injections, oral medications, and lumbar punctures.
Today, Molly is inspiring others with her courage and spirit, and sharing her story. At a Toronto park, she is on the swings, her feet high to the sky. She is racing through the park, with her sister, Maisie and mother, Cara, close behind her.
"It is incredible how far we have come. We take every day as it comes. We face everything head-on. We want to say thank you very much to the UFCW crew who has worked really hard to support the Leukaemia & Lymphoma Society of Canada who has helped us. Please continue to work hard to raise money and awareness."
Fundraising Efforts
Molly and her family were among those who took to the streets as part of Light the Night events across Ontario.
White, gold and red lanterns filled the sky as Local 1006A staff and members lit up the night in London, Ottawa and Toronto to raise more than $20,000 for the Leukemia and Lymphoma Society of Canada (LLSC).
The Light the Night Walks are about honouring those who have survived, those who have died, and those who are fighting against blood cancers.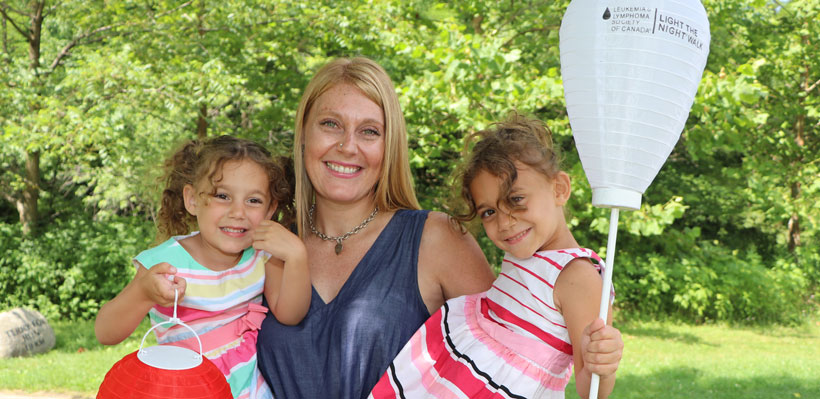 More than 138,000 people in Canada are living with some form of blood cancer. The LLSC reports there are more than 137 types of blood cancers, including lymphoma, leukemia, myeloma and myelodysplastic syndromes.
"I'm proud of the incredible generosity and compassion of our members and their families, who come together throughout the year to help us raise funds and awareness," said President Wayne Hanley. "As we march, we carry those we have lost in our hearts, and light the night to create hope in the fight against these deadly diseases. I want to thank all of our members, activists and staff for their support — together, we are making a difference."
Activists Stepping Up For a Cure
Anita Hurley, a 1006A Executive Board Member who works at Swiss Chalet, helped fundraise for the Light the Night walk in London. Anita said she was moved to participate because of the struggle faced by her friend's daughter with leukemia.
"That was a big motivator for me to raise money and bring awareness to the darkness of cancer," she said. "It's a very touching and emotional night and I'm glad to be a part of it."
Adam Nott, a steward from Aspect Logistics, came with his co-worker Jonas Hanje to the walk.
"I wanted to show support to anyone who is or has battled cancer and all the families who have lost loved ones to this disease. Our local union has always shown tremendous generosity to this cause year after year and I wanted to do what I can to help them in this fight."
Kristine Seguin, a steward from Loblaws Great Foods in Ottawa, fundraised for Light the Night through organizing a Craft and Bake Sale at her store in Kanata.
"I wanted to participate to show my continued support for this wonderful cause," she said. "We must bring awareness and education as a community and support the families who are dealing with this cruel disease."
1006A is proud to support leukemia fundraising initiatives throughout the year, raising $51,006 in 2018. Initiatives include our annual Golf Tournament, raffles, and craft & bake sales. Thank you to everyone who has participated and supported the LLSC!
Do you have a fundraising idea? Contact us at This email address is being protected from spambots. You need JavaScript enabled to view it.