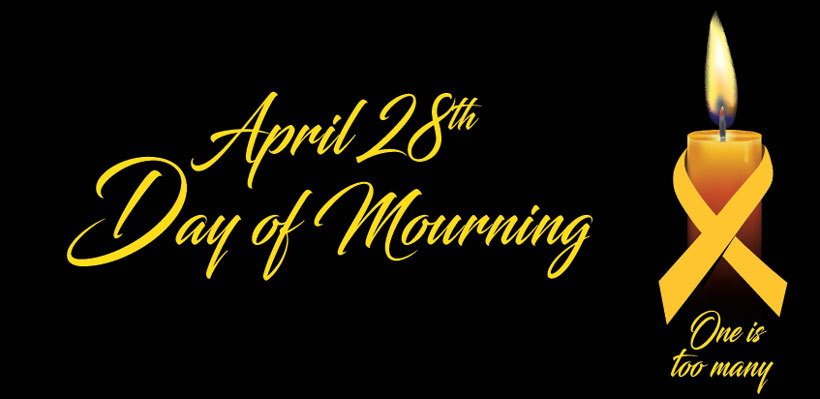 On April 28, we will come together for the Day of Mourning to remember the thousands of workers killed, injured or made ill at work.
Your union will rally with labour and community allies on April 29 to show our solidarity with the victims and the families of these tragedies. Together, we reaffirm our vow to help eliminate workplace deaths, injuries and illness.
In 2017, more than 950 workers died on the job in Canada, up 46 from the previous year. Twenty-three of those workers were between the ages of 15 to 24.
More than 251,000 workers are reported to have filed time for work-related injury or disease, with many more going unreported.
Join us to help create healthier and safe workplaces for all.
APRIL 29 EVENTS
In York Region, we will participating in a Day of Mourning memorial at Woodbridge Memorial Arena, 5020 Highway # 7 [at Islington]. It takes place at 11 a.m.
In Toronto, a memorial will be taking place at Larry Sefton Park [Northeast corner of Bay and Hagerman Streets behind Toronto City Hall] at noon.
Check here for events in your community.
All workers deserve to go home healthy and safe at the end of their workday.
Workplace deaths, injuries and illness are preventable and we must do our part to raise awareness.
How You Can Take Action
Participate in a Day of Mourning event in your community
Speak to your family and friends about this issue
Find out who the Joint Heath and Safety Committee worker member is in your workplace. If you are concerned or worried about a health and safety issue, ensure to raise it with them.
Show your solidarity by sharing information about the Day of Mourning on April 28.
Learn more about protecting yourself
Together, we will build healthy and safe workplaces for all.