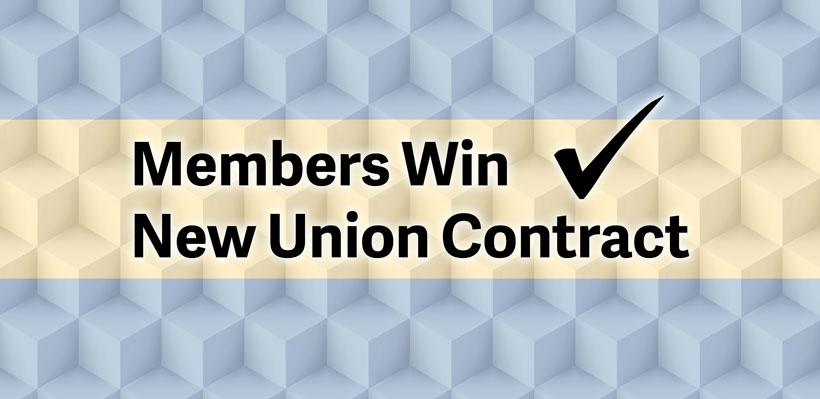 Members at Maple Leaf Poultry have strongly voted to ratify a new four-year union contract with a new closure agreement.
"It was a difficult process but we tried our best and worked hard to get the contract," said Maria Cabral, a member of the negotiating committee.
The contract is effective from September 24, 2018 to September 23, 2022.
Bargaining was led by Regional Director Don Taylor, Union Rep Dustin Magee with supports from members, Maria Cabral, Joe Bonello and Andrew Hardware.
The negotiating committee was able to achieve gains including wages increases and strong closure agreement with severance and bonuses for all workers and opportunities for members to move to other facilities. We also negotiated a Workplace Adjustment Committee, which will be funded by the employer, and will assist employees with skill enhancement, financial planning, resume writing and job placement, EI counselling, and other training/service.
Maple Leaf Foods is consolidating its Ontario plants by 2022, resulting in the closure of the Maple Leaf Poultry plant.
"Our committee worked tirelessly to secure a fair contract for our membership in the face of challenging circumstances they are confronted with," said President Wayne Hanley. "We wanted to do what we could to minimize the impact of the closure, ensure our members' service was recognized and help them transition with their career whether at another Maple Leaf location or elsewhere."
Highlights
* Wage increases ($0.30 retroactive, $0.30 effective Sept 2019, $0.30 effective September 2020 and $0.50 effective September 2021); Wage increases for maintenance workers ($0.50 retroactive, $0.50 effective Sept 2019, $0.50 effective September 2020 and $0.50 effective September 2021).
* Workplace Adjustment Committee
- To review items related to wind down of operations, including process of applying to alternate employment opportunities, outstanding questions, special employee requests.
- Assist employees with transition
* Career Transition Support
- Assist employees with resume development, interviewing techniques, job search skills, career transition success strategies
- facilitation of application of employees to other Maple Leaf locations
- provide letters of reference
As the union becomes aware of further information related to the closure, we will share with you via cellphone texts. Please ensure you provide us with your updated cellphone number so you will receive relevant and timely updates. Your union is here to assist you with any concerns or questions you have. You can reach your union rep, Dustin Magee, at This email address is being protected from spambots. You need JavaScript enabled to view it. or 416.888.1176.