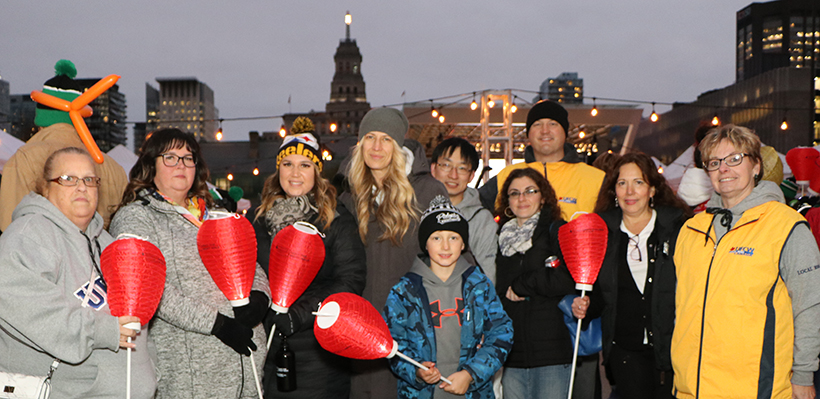 Local 1006A members and staff were proud to Light the Night for a cure in Toronto, Ottawa and London this October.
Participants walked together with gold, red, and white lanterns to raise money for the Leukemia & Lymphoma Society of Canada.
"I want to thank our members for their incredible generosity in supporting the Light the Night walks in cities across Ontario," said President Wayne Hanley. "By coming together, we are making a difference in the fight against Leukemia and Lymphoma and helping fund a cure."
"I'm proud to participate in this event because it make me feel like my little contribution is a small part of what these brave kids go through," said union steward Diane Wilmot. "Every little thing helps and I feel very honoured to be part of this blessed event."
For Anita Hurley, the struggle of loved ones inspired her to once again participate in Light the Night. A friend's daughter has leukemia which was believed to have gone into remission.
"I found out earlier this year that the leukemia is back, that was a huge motivator for me to try and raise as much money as I could to help battle this disease," said Hurley. "I also wanted to be a part of a evening which brings so many people together to honour lost loved ones and support those who have beat it or are still battling leukemia. It is a very touching event and I'm very happy to be able to participate in such an amazing fundraiser."
In total, UFCW members have helped raised more than $43 million since 1985.
"I want to thank all our members and their family and friends for coming out and helping make the walks such a success," said Diana O'Brien, Leukemia Fundraising Coordinator for 1006A.
Members who raised the most money on each team will receive a $100 HBC card.
London – Anita Hurley - $1010
Toronto – Adriana Georgakopoulos - $1650
Ottawa – Terri Robinson - $500