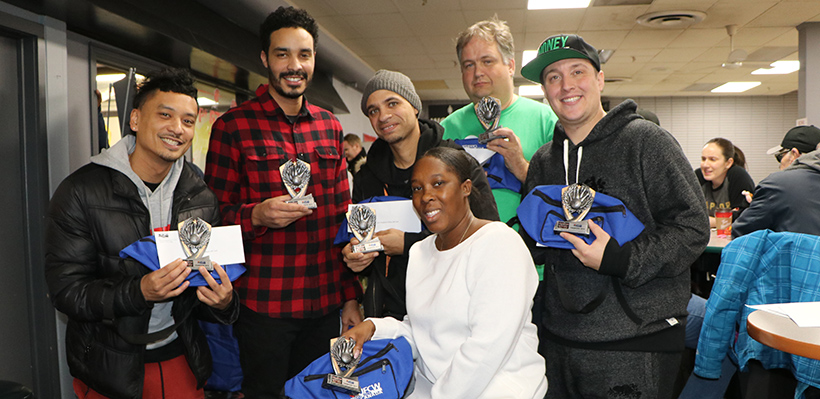 1006A members and staff came to Bowl for a Cure for Sickle Cell Anemia on November 16, 2019 at Rexdale Bowlerama.
Hereditary in nature, Sickle Cell is a blood disorder which leads to red blood cells getting stuck in the blood vessels. As a result, much-needed blood and oxygen gets blocked from vital organs (including the lungs, heart, kidney, liver and much more).
"We are proud of our members for showing their support for this great cause—together, we will strike out Sickle Cell Anemia," said President Wayne Hanley. "Sickle Cell Anemia affects so many children and families and we wanted to do our part to find a cure."
Proceeds from the event will go to Faces of our Children, an organization which raises funds and awareness in the fight against Sickle Cell Anemia. The event was held on behalf of UFCW Canada Local 1006A and the UFCW Minority Coalition.
Maria Bocangel, a union steward, was among the participants.
"I am happy to support a good cause –we are here to help end sickle cell anemia," Bocangel said. "With this event, our union empower workers in different workplaces to participate with their union. It is a great opportunity to have a final get together at the end of the year with co-workers and meet other people from workplaces."
Eric Lee, a steward from Loblaw Great Food, was happy to participate in the event with his family.
"It is always good to see people having fun and a good experience," said Lee. "It's rare to see union members come together from different workplaces."
"I want to thank the members and the sponsors for ensuring this event was a success once again. It was great to see a strong turnout from the membership for such a worthy cause. Thank you and we will see you next year," said Jonathan Lobo, 1006A union representative who organized the event.