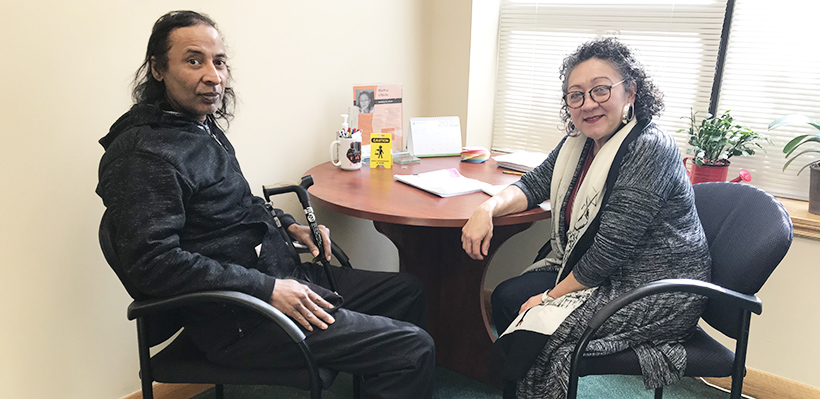 Nearly five years ago, Simba Mudhir's life turned upside down when he was injured at work at Canadian Linen.
From being fully healthy, two workplace accidents have now left him permanently disabled.
His life has been destroyed, affecting his ability to work, walk, or even move as he once did. The injuries devastated his family. Now, every week, he has to take 10 injections to control the suffering from the severe pain.
Today, he is seeking fairness from the Workers Safety and Insurance Board with the help of 1006A's Martha Villeda.
At the time of his injury, Mudhir's role at Canadian Linen involved heavy lifting, pushing and pulling.
"I was loyal to them and doing the best I could do."
He was first injured in February 2015, when he slipped and fell backwards while unloading a trailer in a workplace accident.
"That moment changed my life forever," Mudhir said.
Despite the injury, the company wouldn't take him to the doctors until his shift was over and tried to send him back to work on the same day.
"The way they treated me…no human should be treated like that," Mudhir said.
Later on, a commitment to provide him with time to recover was broken, and he was pressured to return to work as soon as possible. There was no loss time.
While he was supposed to be given light duties, that didn't happen, as he was pressured to return to full duties.
Without enough time to recover and subjected to the company's demands, Simba has his second accident in June 2015 when he was trying to pull a large laundry bin and its wheel got stuck. He tried to lift the bin to fix the wheels. He was doing heavy lifting when he felt a sharp pain in his back which left him unable to move. Once again, the company refused to find someone to take him to the doctor immediately.
"I begged to go to the hospital."
This time, the injury was permanent and he would be left unable to move. Even a surgery couldn't help.
For three years, his case was at the WSIB tribunal. With 1006A's help, he would ultimately win his case.
"It was a hard tribunal but we prevailed," said Villeda.
However, winning the case is only the first step. The next is ensuring WSIB pays what Mudhir is owed.
Currently, WSIB is trying to make Mudhir go back to working modified duties even though he is injured and his employer does not want to provide him with a modified job.
"Even though they have all the evidence, they are trying to pressure me. The case was supposed to be over and they were supposed to pay me but here we go again."
He is greatful to have Villeda by his corner.
"Martha has done a great job. The union is doing excellent work in helping me through this."
Mudhir's advice to workers who have been injured in a workplace accident: immediately contact and schedule an appointment to see your doctor. Even if you think it is a small thing and it will go away, get it checked out because there could be a larger underlying issue. Consult with your union representative if the company asks you to sign any documentation.
TIPS FROM 1006A WSIB Department
Report your accident immediately
Go to see your doctor a soon as possible and let your doctor know that it is a work-related injury
Before signing a Returned to Work Offer, take it to your doctor and ask for his/her opinion
If you have any question, call your union and get in contact with the WSIB Department.