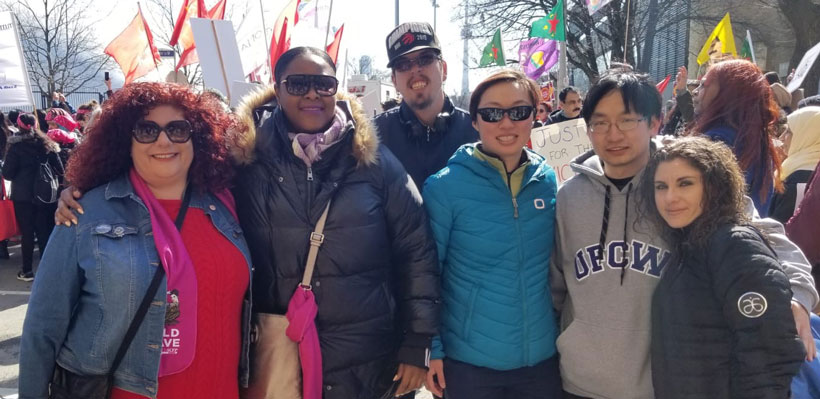 UFCW Canada Local 1006A members, activists and staff proudly marched through the streets of Toronto for International Women's Day (IWD).
The theme of this year's event was "An equal world is an enabled world."
1006A participants came together to celebrate women's achievements, raise awareness against bias and take action for equality.
"We are proud of the incredible contributions women have made into building our union, community and country," said President Wayne Hanley. "We are committed to standing side by side with our sisters, daughters, and mothers in the challenges they face and work to create a fairer and more just world for all."
"It's important to attend International Women's Day because of everything women have been through — we deserve to have a say and be treated with equality in this world," said Dianne Wilmot, who works at No Frills in Scarborough and participated in the Toronto IWD event.
"Participating in International Women's Day is about bringing awareness to women's issues, supporting women around the world and stopping gender discrimination and abuse," said Maria Bocangel, who works at a Real Canadian Superstore and participated in the Toronto event . "It is great the union takes an important role at events like these—together, we will make a difference."
"Women's issues should matter to all members because equality should be mandatory," said Kallisha Hoyes, who works at No Frills. "Everyone has a mother, sister, aunt, grandmother and friend that are women and I am sure they want nothing but the best for them so they should support them with the issues they have to face."
"We all need to stand up and support each other so we are stronger in numbers - the more of us there are, the stronger we will be," said Tachani Bishop, who works at Loblaws.
"Women are 50 per cent of the population. Whatever improve the lives of women improves the lives of the entire family and community," said Anna Alers-Alers, who works at a Thunder Bay RCSS.