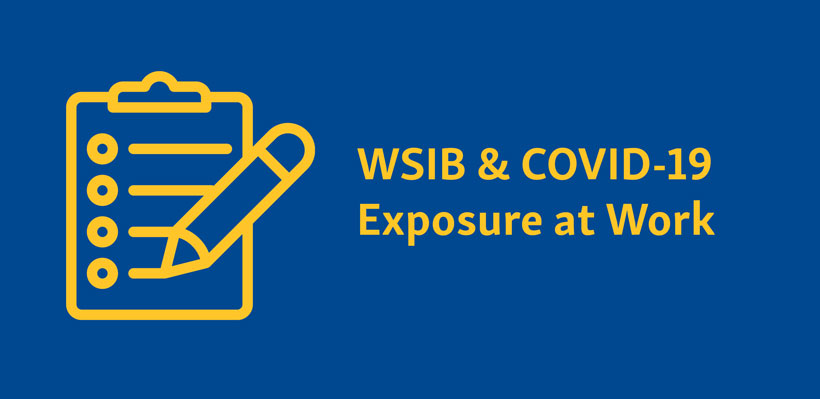 With many of our members on the frontlines, UFCW Canada Local 1006A continues to advocate on your behalf at the Workplace Safety and Insurance Board (WSIB).
It is important that our members know what their compensation options are if they are exposed or contract COVID-19 at work.
Please contact your union office as soon as possible if you believe you have been exposed and want guidance through the WSIB process.
Having proper documentation of exposure time and dates can be vital if you become ill. Having a record of exposure can help strengthen your WSIB claim and assist with medical treatment.
Documentation is essential. Please ensure to keep detailed documentation of everything, including your work schedules, all medical consultations and diagnosis, communication with employers, detailed symptom onset or exposure (include dates, times) and a daily record of the number of cases in Ontario day by day. Documenting now will improve the chances of being successful with a claim down the road.
If you believe that you may have been exposed to the COVID-19 while performing your work duties, you should complete a WSIB Worker's Exposure Incident Form (form 3958A).
When to complete this form:
Intended for voluntary use when an unplanned workplace incident exposure has occurred or is believed to have occurred.
No diagnosis or symptoms are required to complete this form.
The purpose of this form is to obtain information about the exposure incident experienced by a worker should an illness or disease occur in the future.
Instructions on where to send this form are indicated on the form.
Where to find this form:
The Worker's Exposure Incident Form is available on the WSIB's website: https://www.wsib.ca/sites/default/files/documens/2018-12/3958a_07_16_fs.pdf
For assistance completing the Worker's Exposure Incident Form, please contact 1006A WSIB Department.
Examples of possible workplace exposure situations include:
Grocery store worker stocking shelves or working at the customer check out in a store where it is later confirmed to have had an exposure of COVID-19 (customer or co-worker).
Transit operators providing public transportation where social distancing is challenging, semi-confined space.
Currently, WSIB states it is adjudicating COVID-19 related claims on a case-by-case basis. For a COVID-19 claim to be approved, WSIB notes evidence must show that the person's risk of contracting the disease through their employment is greater than the risk to which the public at large is exposed. Click here (PDF) to learn more about WSIB guidelines for COVID-19 cases.
If you believe you have contracted COVID-19 at work (you have been diagnosed or have symptoms), you can file a claim with WSIB to determine your eligibility. https://www.wsib.ca/en/covid-19-faqs-about-wsib-claims
WISIB will be looking at the following factors in determining eligibility, including:
Are the incubation period, the time from the date of exposure and the onset of illness, clinically compatible with COVID-19 that has been established to exist in the workplace?
Has a medical diagnosis been confirmed? If not, are the worker's symptoms clinically compatible with the symptoms produced by COVID-19?
Is this supported by an assessment from a registered health professional?
If you believe you were exposed to COVID-19 at work, and you are not ill at this time, you can file an exposure incident form through WSIB. If you become ill in the future, WSIB will be able to process your claim faster.
If you have any questions on WSIB and COVID-19, please contact the union office. We will help you through this process.