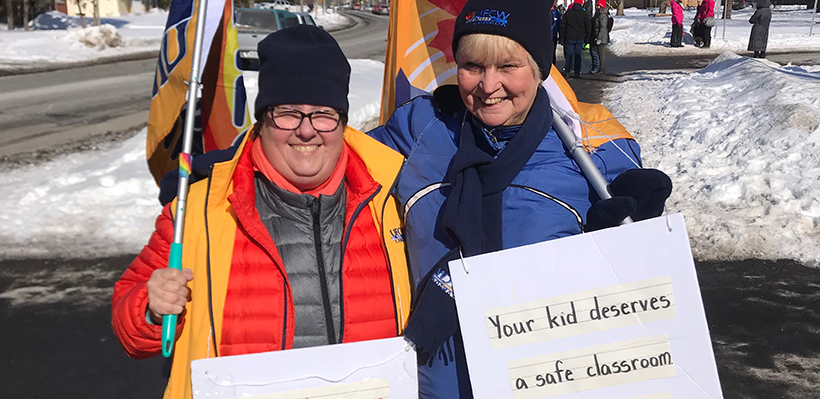 Caroline Brisebois thrives on making a difference and has been doing just that for 30 years as a union steward.
When three members weren't being scheduled properly, Caroline worked along with her union to ensure they were compensated fairly.
"It took a lot of legwork with the schedules but the payout they received was worth it," Brisebois said. "It's all about the members for me – It feels good to be able to help."
This is just one of the many ways Brisebois has helped members in her decades as a steward, from assisting with health and safety cases to scheduling and pay problems.
The opportunity to change people's lives is what led Brisebois to become a steward in the first place.
"I like to help people who may not have a voice," she said. "Some people are afraid to speak up to management and I like solving problems for people who needthe help. Sometimes it's as simple as standing beside them."
Encouraged by now-retired union rep Shirley Heise, Brisebois' involvement deepened over the years.
She is a Vice-President on the Local Union's Executive Board, a role she has held for more than 13 years. Brisebois is also a member of the Women's Issues Network, and her Joint Health and Safety committee. She regularly organizes an annual holiday toy drive with her fellow activists for children, and also fundraises for the Leukemia and Lymphoma Society of Canada.
At work and beyond, she supports members as much as she can through calls, texts and emails.
"I provide advice and action when problems are brought to my attention and work with my union rep, Jackie Graticola, if needed to get them resolved."
In her several decades as a member and steward, she knows how the union makes a difference.
"The union has always had my back on issues," she said. "It gave me the confidence to step up to the plate on issues. We need the union now more than ever."