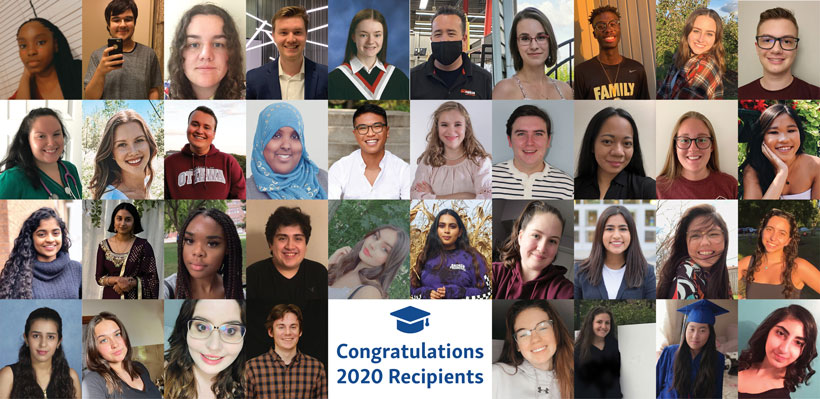 When Katherine Mazzocco found out she won the 1006A union scholarship, she quickly ran to her mom and had a mini celebration.
"This scholarship means so much to me because it is proof of the union's efforts to support its members," said Mazzocco, who works at the Superstore in Aurora and studies at Laurentian University. "I am truly overjoyed. This union has been excellent at communicating its many community outreaches and has thoroughly supported its members."
Mazzocco is among the 42 members and dependants, awarded with a union scholarship this year. The scholarship program is open annually to members and their dependents and are worth $1006 each.
"With the cost of post-secondary education escalating, our union is proud to do its part to support our members and their dependents during these difficult and stressful times," said President Wayne Hanley. "We are excited to support their dream of post-secondary education."
For Rishvi Narayan, the daughter of member Prem Narayan from Tok Transit, the scholarship meant a lot.
"I couldn't believe it when I was informed that I am a recipient of the scholarship," said Narayan, who studies Nursing at McMaster. "I feel very lucky and grateful for this award during a time where there's a lot of uncertainty. This scholarship will ease some financial stress as I journey through my degree in nursing. Thank you so much UFCW Canada Local 1006A for this wonderful opportunity."
David Dalangin, who works at a Loblaw pharmacy and studies nursing at Humber College, said the scholarship meant a lot to him.
"Going back to school as a mature student and working part-time is never easy and incredibly challenging during these unprecedented times," said Dalangin. "This scholarship will allow me to offset stress and better focus on my studies and my future. Thank you so much."
Member Catey Fifield said she was honoured to be a 1006A scholarship recipient. Fifield, who works at a Superstore, is enrolled in a Bachelor of Arts program at McGill university.
"It will help to fund my education and ease my family's worries in this era of uncertainty," said Fifield. "I am proud to be a member of a union that protects some of the most valuable workers in our economy—at my local Real Canadian Superstore and in hundreds of other workplaces across Ontario."
Applicants that were not selected for this year's program are encouraged to reapply for the 2021 scholarship program. Application and eligibility requirements linked here.
List of 2020 Local 1006A Scholarship Winners:
Halima Abdalah*
Sahwa Abshir
Heidy Asuncion
Jessica Atfield
Bradley Bemrose*
Gabrielle Blondin
Christina Bozzelli
Claudia Chrzan*
Madalene Cozzetto*
David Dalangin
Aiden Duffy
Catey Fifield
Amber-Lyn Forwell
Jonathan Fung
Adalyn Goodfellow
Isaac Grass
Raphael Gyamfi
Nathan Heuston
Joya Jamieson
Akilah Joseph
Elizabeth Kellas*
Alexandra Koundourakis-Soares*
Sean Malkin
Lauren Martin
Merveille Massamba
Katherine Mazzocco
Mikayla Morgan*
Rishvi Narayan*
Mikylo Odut
Julianna Palumbo*
Lara Pecoraro
Sarah Regnier
Sabrina Rocha*
Sehijdeep Sarao*
Helia Soleimanifard
Christina Song
Mallory Speedie-Angst
Riya Suthar*
Brandon Toro*
Natasha Uthayakumar
Kaylena Wilson
Grayson Woods
*child/dependent of Local 1006A member