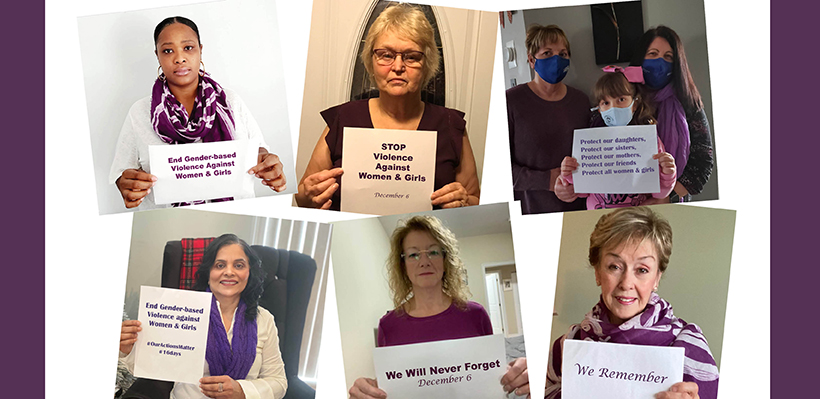 On December 6, 1006A will commemorate the 31st anniversary of the Montreal massacre.
On this day in 1989, a gunman murdered 14 women and injured 10 others at Montreal's Ecole Polytechnique because they were women.
These tragic events led to Parliament proclaiming December 6 as the National Day of Remembrance and Action on Violence against Women.
"We will be observing December 6 in Ottawa because it's important that we never forget the women who have lost their lives due to violence," said Caroline Brisebois, a steward and Vice-President on the 1006A Executive Board. "So many woman are living with violence at home and COVID-19 is not making things any better for them."
The names of the victims killed on December 6, 1989 were: Geneviève Bergeron, Hélène Colgan, Nathalie Croteau, Barbara Daigneault, Anne-Marie Edward, Maud Haviernick, Maryse Laganière, Maryse Leclair, Anne-Marie Lemay, Sonia Pelletier, Michèle Richard, Annie St-Arneault, Annie Turcotte and Barbara Klucznik-Widajewicz.
"Thirty-one years later, we continue to face unacceptable and preventable gender-based violence against women, girls and people of diverse gender identities," said Nancy Prout, a steward and a member of 1006A's Women's Issues Network. "For decades, we heard 'Never Again' but, unfortunately the violence continues today. It's evident that we still have a long way to go. We must call on each other to be proactive and demonstrate with our actions and voices that we can end violence against women."
The statistics are sobering: One in three women will experience abuse in her lifetime. Every 6 days, a woman is killed by her intimate partner. 1006A, along with many around the world, is observing the 16 Days of Activism against Gender-based violence from November 25 to December 10.
"All women and children deserve a world that is safe and free of threats and violence," said President Wayne Hanley. "As a society, we need to do better to eliminate gender-based violence. I encourage you to utilize these 16 days to raise awareness among your friends, co-workers and neighbours about this important issue."