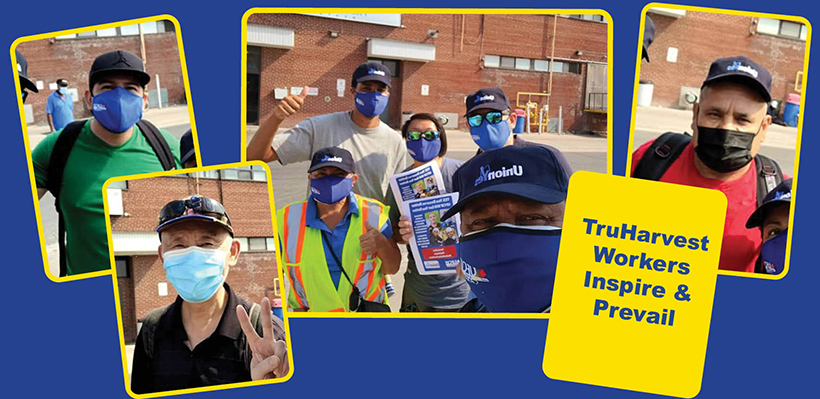 UFCW 1006A members at TruHarvest have prevailed, affirming their commitment to each other and the local union in an overwhelming vote with the Labour Board.
Members knew first-hand the advantages of belonging to a union and having a union contract. They believed winning this vote was the quickest way to reaffirm their membership in the union and start negotiating their union contract.
"We deserve dignity and respect, we wanted benefits, secure hours, scheduling, better wages and a way to end favouritism," said Luis Abarca, who works at TruHarvest. "The only way to achieve this is by having a collective agreement, this is why overwhelmingly, workers voted yes."
Many members have been a long part of the UFCW 1006A family, through Ryding Regency, working in the same space now operated by TruHarvest.
Since Tru Harvest started operations, UFCW 1006A members have repeatedly attempted to negotiate new improvements to their union contract.
However, TruHarvest has made it difficult for the workers throughout this process. The company informed the union that they are not prepared to recognize the union and continue with negotiations. As a result, the union has filed charges and an application with the Ontario Labour Relations Board in order to force the employer to recognize the union and to negotiate a fair agreement. The union vote was an opportunity for workers to return back to the bargaining table and build on their rights in the workplace.
The bargaining unit is made up of more than 50 workers.

"Many of our members at TruHarvest already know the strength and protection that union representation provides and it's inspiring to see their solidarity and dedication to each other and their desire to making their workplace better," said President Wayne Hanley.
Key issues at the meat processing plant included benefits, wages and transparency.
"These workers were previously unionized and understand the value of being able to participate in union contract negotiations and the job stability that comes with unionization," said Lesley Prince, Director for Organizing at UFCW 1006A. "I am excited they have the opportunity to get the workplace improvements they deserve."