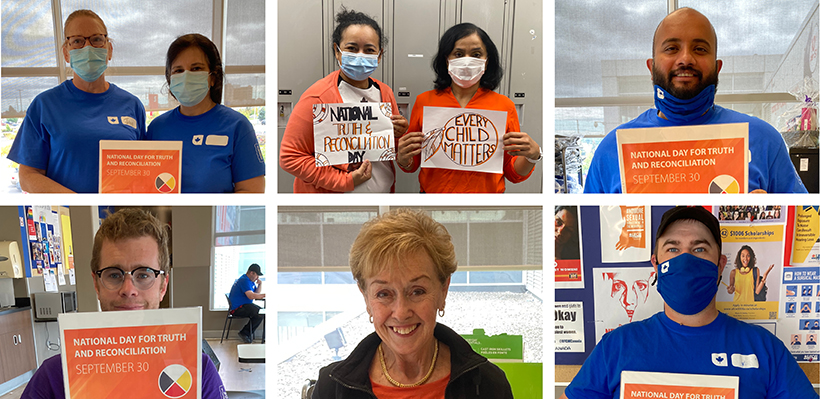 UFCW Canada Local 1006A members and staff were proud to participate in the National Day for Truth and Reconciliation on September 30, 2021.
Established recently by the federal government, this day is an important time for all Canadians to remember and reflect on the shameful legacy of residential schools.
"The National Day for Truth and Reconciliation is important for Canadians because of its significance to our country's history and future," said President Wayne Hanley. "This day is about honouring the history and struggles of Indigenous people and uniting in solidarity."
"Every child matters – we took the time to recognize Orange Shirt Day and remember Canada's indigenous children," said Pramie Ramroop, an activist from Sofina Foods.
Canada's residential school system devastated families and communities, aimed to erase Indigenous people and culture, and unleashed a cycle of pain and destruction that continues to this day. The creation of this statutory holiday fulfilled a recommendation of the Truth and Reconciliation Commission of Canada.
"Together, our members honoured the lost children and survivors of residential schools, their families and communities," said Nancy Prout, an activist from RCSS Whitby. "Public commemoration of the history and legacy is a vital component of the reconciliation process. We wanted to use this day to learn more about the history and legacy of residential schools and commit to walk this road for years and generations to come."
Thank you to all who participated.
RESOURCES
Read about UFCW 1006A's response to Loblaw