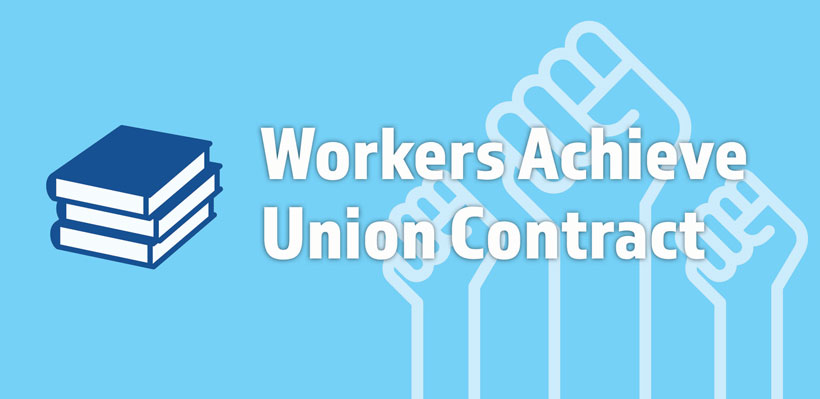 UFCW 1006A members at Indigo Yorkdale and Indigo Scarborough have both voted to accept their first union contracts.
"The contract secured protections and benefits that we would never have been afforded without union representation, and while we are hoping to build on the existing language in future contracts, we're pretty pleased with the effort that we put into this one," said Greta Whipple, a member of the bargaining committee at the Yorkdale store. "Our negotiators were invaluable in that they had previous bargaining table experience... I really appreciate our negotiators' patience with us, and their willingness to call the company out over the course of the process. It certainly was a dogfight."
Both contract terms run from May 4, 2022 to May 3, 2024 and covers 52 workers at Indigo Yorkdale and 27 workers at Indigo Scarborough.
The negotiating committees included members, Adam Madelino, Greta Whipple, Victoria Popov and Melissa Fox and Union Representatives Joe Blythe and Daiana Dumitru.
"UFCW 1006A negotiators are difference makers, making workplaces and lives better for so many workers across Ontario," said President Wayne Hanley. "Bookstore workers are increasingly learning first-hand the benefit of belonging to a union and having skilled and professional representation and protection. We are proud of the work our union negotiators did, in achieving a fair union contract for workers at Indigo Yorkdale and Indigo Scarborough. Together, we are establishing a strong foundation to build on for the future."
Whipple said it is important to understand that winning unionization is the start of a journey.
"It's simply a testament to the fact that unionizing isn't a "one-and-done" situation, and that it's an ongoing battle," said Whipple. "But we're pushing back and looking forward to collaborating with our representatives to improve the working conditions at Indigo Yorkdale and exercise our rights to have a fair say in the terms of our employment."
Currently, UFCW 1006A represents workers at four Chapters/Indigo stores across Ontario.
Highlights
Ability to change availability
Right to continue to wear a covid mask
Signage posted at all entrances advising all customers that it's recommended to wear a mask
Minimum wage protection language
Workers interesting in gaining the benefits of union representation can speak with a union organizer for more details. Contact us here.