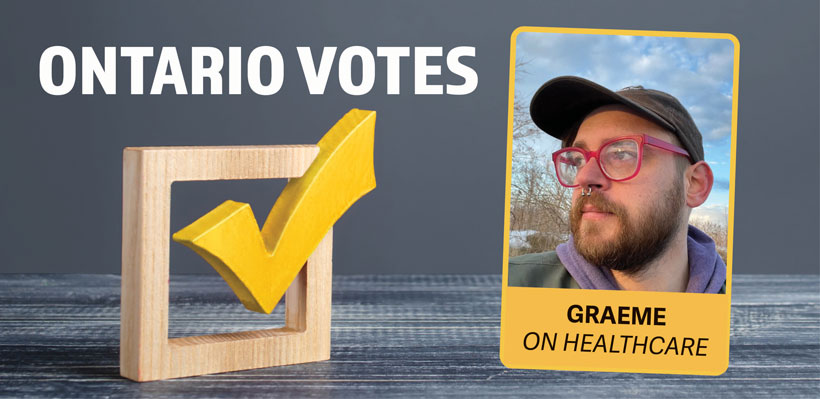 Ahead of the June 2 provincial election, 1006A is featuring our members' thoughts on the issues that are important to them and their families. Your union encourages you to learn more about where each party stands on the issues and to get out and vote in your riding. Every vote makes a difference.
Today, we feature member Graeme Lamb from Steamworks Baths speaking about healthcare spending.
Public health spending in Ontario is under attack, with the Ford government looking to privatize and cut back on health care funding.
The CBC reports that Ontario's per person spending on healthcare in 2020 was the lowest in the country. Experts say the Ontario government is planning to expand private for profit clinics and hospitals in Ontario and is allocating more long-term care beds to for-profit companies, which were revealed to have poor and inhumane conditions for seniors during COVID. As a result, many seniors died in privatized long-term care. Under Ford, COVID tests and many lab tests are being privatized, making healthcare less affordable and accessible for Ontario's families. Learn more.
Lamb speaks out about the impact of healthcare funding cuts on the 2SLGBTQi community:
"Ontario's public health funding has been on my mind ever since I started working at Steamworks, well before the COVID-19 pandemic threw it into the headlines. It feels like every year I've seen more community health organizations scale back their bathhouse outreach because funding just hasn't kept pace with our communities' needs. That means more and more of us are deprived of opportunities to ask questions and get judgment-free information that's important for our sexual health.
During this last phase of the election campaign, bathhouses and gay men are facing a surge of stigma and fear connected to monkeypox. I can't help but think we'd be better off navigating this if our community services had more capacity. We deserve a government that seriously invests in community-based public health and doesn't treat queer people's needs as an afterthought."