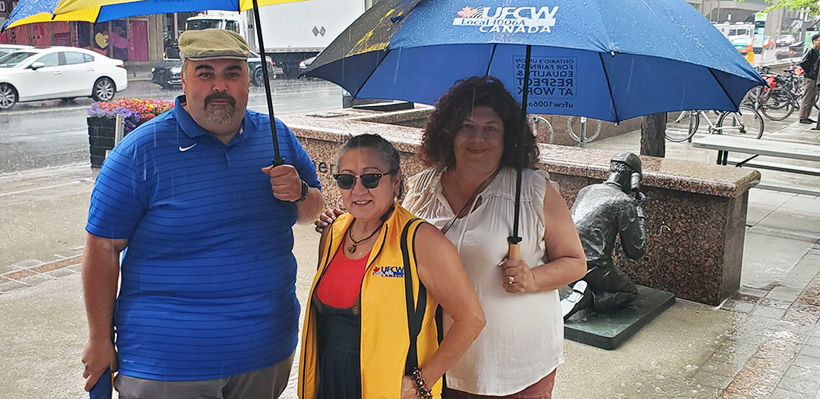 On June 1, UFCW 1006A will join workers, labour and community allies in observing Injured Workers Day.
Today, we come together to raise awareness about the obstacles faced by injured workers, advocate for health and safety improvements and unite to reform the WSIB system. This day is an opportunity to also honour workers injured or made ill on the job.
As millions head to the polls on June 2, UFCW 1006A encourages you to learn about the workers' compensation issues in the provincial election. Click here to learn more.
The Ontario Network of Injured Workers Groups note that nearly half of permanently injured workers live in or are close to the poverty line and nearly one in 10 live in deep poverty.
Under the Ford government, billions in WSIB funds are being given to employers instead of properly compensating workers who are injured or made ill due at work.
"Injured workers in Ontario deserve better than a WSIB system that rewards employers while denying compensation to injured workers," said President Wayne Hanley. "The WSIB system in Ontario is broken and is in desperate need of reform. At 1006A, we have a strong track record of advocating for injured workers and ensuring they receive the compensation they deserve. To create change, we need our members to join us. You can make a difference by learning about the struggles faced by injured workers, raising awareness among your family and friends and contacting your MPPs to advocate for fairness for those injured or made ill on the job."
The history of Injured Workers' Day goes back to June 1, 1983 when injured workers came together, in the thousands to demand changes to Ontario's workers compensation system.
Your union's Health and Safety Department and WSIB Department are always working to make workplaces safer. If you are injured at work, your union's WSIB Department will help you navigate through the WSIB process. If you have health and safety concerns, make sure to document the issue and contact our Health & Safety Department.
Common types of injuries include: strains, sprains, cuts, punctures, scrapes, bruises, pinches, burns, critical injuries and crushes.
Labour and community organizations stand united in calling for changes to WSIB:
End the practice of deeming injured workers. Currently, the Ontario Network of Injured Workers Groups notes that the current law enables WSIB to cut wage loss benefits based on deemed earnings from a job that the injured worker doesn't have.
Listen to injured workers' treating healthcare professionals. Currently, critics say WSIB is failing to implement medical advice about readiness to return to work and there is questionable use of board funded speciality clinics.
Stop cutting benefits based on "pre-existing conditions"
Ensure workplace injury benefits for seniors. Currently, injured workers can only receive wage loss benefits until they turn 65.