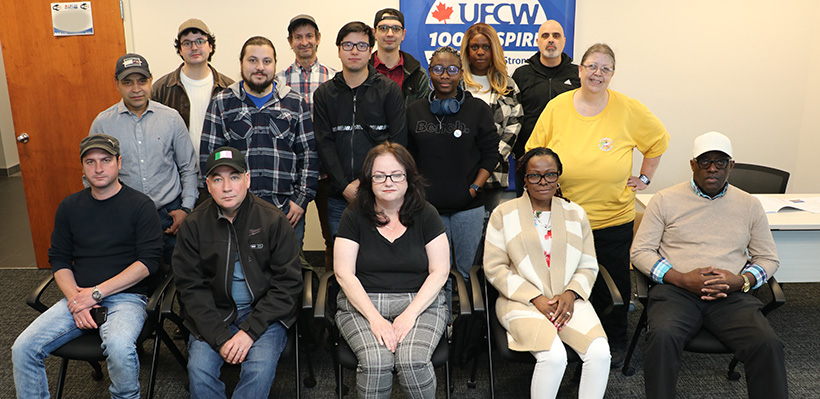 Stewards' Training is back, in-person, after a three-year hiatus.
Several courses are being held in May and June for stewards from diverse workplaces and sectors across Ontario.
"At 1006A, we know a strong steward base is at the heart of a strong union and that's why we are so proud to welcome stewards from across Ontario to participate in this exceptional training program," said President Wayne Hanley. "Stewards' training is integral to our efforts to continuously strengthen our union and to better serve our membership. Our training empowers 1006A stewards with the skills and knowledge they need to advocate for and improve our members' rights and livelihoods."
In-person training had been paused during the pandemic though online training did take place. The resumption of the in-person training has generated great interest from 1006A stewards.
Tiffany Longo, a steward from Loblaw Great Food, has been a steward for two months and was excited to participate in the training.
"I wanted to help people in the workplace to be the best they can be," said Longo. "Stewards' training has been very informative and it has been a new experience meeting so many new people."
Ma-Vina Callado, who works at Holiday Inn West, has been a steward for two years.
"I took the training to learn more about what my role is as a steward and to apply what I learned in my workplace," she said. "Being a UFCW steward is both an honour and a responsibility.
Harvinder Barmi, who works at Unico, has been a steward for one year.
"Stewards' training is a great experience," Barmi said. "I learned lots of new stuff from other participants' experiences. It feels great to be a 1006A steward, especially when I am able to make changes for the betterment of our membership."
Jonathan Bautista, who works at Canadian Linen and Uniform Service, has been a steward for one year.
"I became a steward because I like helping others out as it brings me happiness to make a difference," he said. "The course has been very informative, and it explains properly how to do the steward's role. The teacher is very knowledgeable and has the experience to show how to handle each step."
Stephanie Taylor, who works at Fresh City Farms, has been a steward for two years.
"I became a steward to better advocate for the workers and prevent them from being taken advantage of," she said. "After taking the stewards' training course, I feel supported and better equipped to handle members' concerns."
If you are a steward and are interested in learning more about training opportunities taking place later this year, please contact UFCW 1006A's Rick Young, This email address is being protected from spambots. You need JavaScript enabled to view it.