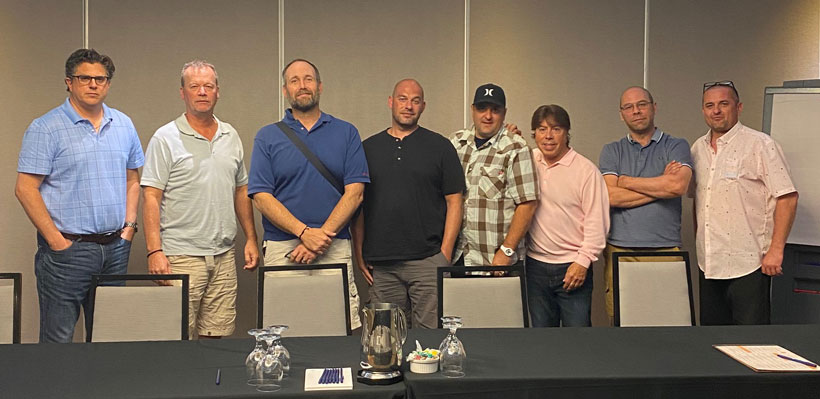 UFCW 1006A members at Loblaw's Maple Grove Distribution Centre have ratified a new union contract, covering 950 members, with several gains, from significant wage increases to job guarantees.
"The majority of members were happy with this contract — there are a lot of smiles on people's faces," said Jay Martin, a member of the negotiating committee. "When we were negotiating, we focused on everybody."
The negotiating committee was composed of members, Jamie MacNaught, Jay Martin, Tom Micallef, Derek Roussy, Tim Rozman, Peter Tabor, Executive Assistant to the President Dan Gilbert and Union Representative Ric Pereira.
"Overall, it is a good contract and we didn't lose anything," Martin said. "The job guarantee will allow many members to retire out of the company and the financial gains were big compared to previous years."
"We are proud to congratulate our members at the Maple Grove Distribution Centre for their unity and determination in securing a fair union contract that will meet their needs in the coming years," said President Wayne Hanley. "This was a complex set of negotiations and we are proud of our union negotiating committee for their exceptional work in empowering our members and working hard to achieve substantial gains for our membership. "
John Erickson, a long-time member, was satisfied with the union contract.
"It is a positive deal for the membership with monetary gains including hourly increases, boot allowance increases, enhancement of early retirement, vacation entitlement increases, and retro pay," he said. "The membership is happy."
Sam Castellino, another long-time member, was satisfied with the new contract.
"It was a great deal and I was very happy with the negotiating committee — more money is always good and it was a very nice increase to the pay scale," said Castellino. "Members have said mostly positive things about the deal."
Derek Roussy, a member of the negotiating committee, was also thrilled with the new contract.
"It's basically the greatest contract," said Roussy.
Highlights
Immediate wage increases (end rate wages for those hired before May 23, 2017) of $2 retroactive to January 29, 2023, with an additional increase of $1 effective January 31, 2024
Immediate wage increase for those hired after May 23, 2027 and in the wage progression of up to $6 per hour
Job guarantee for the term of the agreement
Enhanced Early Retirement Package offered in each year
Increase to shift/department premiums
Five weeks vacation after 15 years, versus 18 years previously
Boot allowance increase
Any outstanding Personal Days to be paid out in November each year