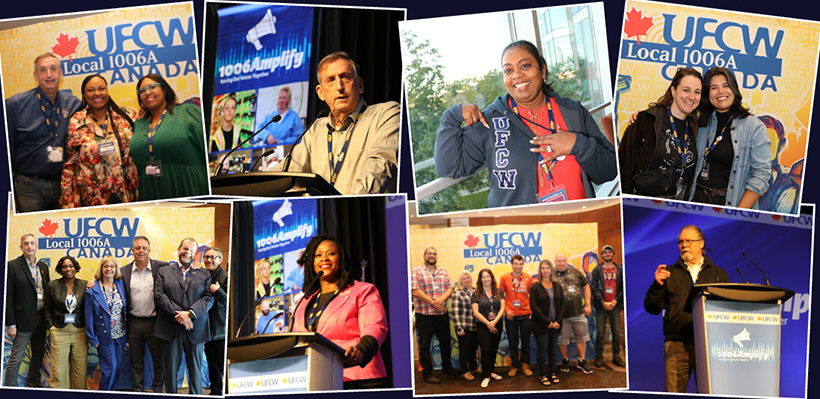 UFCW 1006A was proud to host the annual Stewards' Conference, which encouraged and empowered activists to amplify their voices to build fairer and stronger workplaces and communities.
The conference theme was 1006Amplify, Raising Our Voices Together, and drew more than 250 participants and featured inspirational speakers and educational presentations.
President Wayne Hanley delivered the keynote address to stewards.
"I encourage you to think about how you can amplify your presence to transform your workplace and life and how you can encourage your co-workers to join you to rise up for change," President Hanley said. "Every time you raise your voice and speak up as a steward, you are making a difference and building a fairer world."
Secretary-Treasurer Kevin spoke about the growth and financial strength of the union.
"I can tell you that using our collective voices together to amplify our message is essential to creating a better world," he said.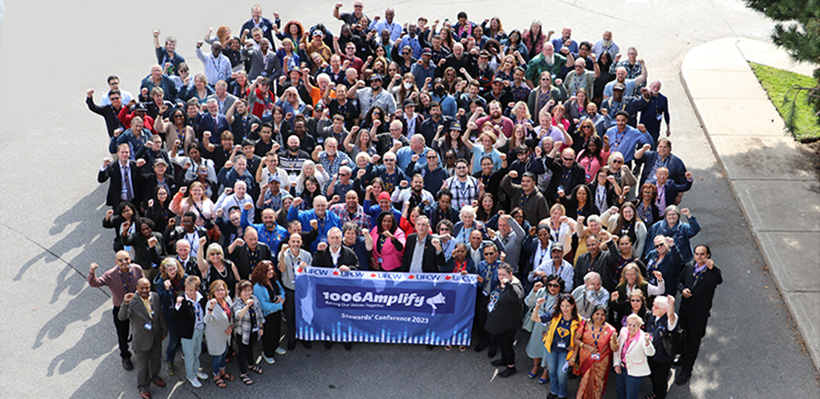 Speakers also included: UFCW Canada's Executive Assistant to the National President Barry Sawyer, UFCW Canada's Training and Education Director Marv Funk, and Juno-award winning singer and songwriter Kellylee Evans. Executive Assistant to the President Dan Gilbert moderated the conference.
1006A Recorder Glacier Effs-Samuel delivered a New Member Orientation presentation, where stewards were trained how to reach out and engage new members. She also moderated the Amplify Our Voices panel, which featured members, Karen Munk from Fresh City Farms, Pramie Ramroop from Sofina Foods, Marc Visca from Loblaw Great Foods, and Taylor Macleod from No Frills.
Jo-Anne Simmerson, a steward who works at Loblaw Great Food, enjoyed participating the conference.
"1006A means to me family, support, friendship and protection – it's about knowing I am supported and able to support others," she said. "The speakers provided inspiration with their stories and it was an another great weekend to recharge and head back to our co-workers."
Joey Leblanc, who works at Loblaw Great Food, said he learned at the conference that the union is always working behind the scenes to improve the well-being of our members.
"To me, UFCW 1006A means a group of like-minded people working together towards better treatment of society as a whole," he said. "It's great to learn about what it is to be a steward and how to be a better and more effective presence."
Kennedy Chiu, who works at Real Canadian Superstore, was excited to participate.
"UFCW 1006A to me is like a family – they want you to succeed for your benefit," he said. "There is no better energy and feeling than being able to share such valuable time and experience with such genuinely kind, caring, hardworking, empathetic and likeminded people."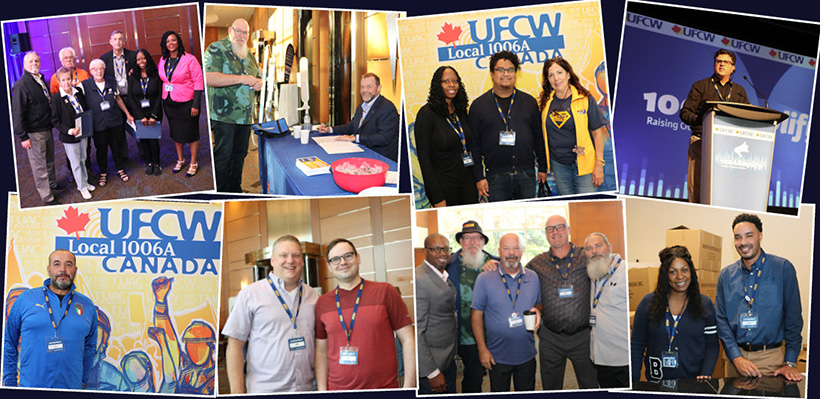 Terri Pawis, who works at Best Western Plus Mariposa Inn, said the conference was informative.
"I learned more about the union and about the power the union has as a whole," she said. "With UFCW 1006A, I know we can make a difference together."
Phyllis Hannivan, who works at Swiss Chalet, said she always feels more confident after the Stewards' Conference.
"It is always a wonderful experience for me, connecting with new stewards and reconnecting with friends from previous conferences and hearing how they have been doing," she said. "It is also useful to get feedback on similar experiences we face at work. UFCW 1006A has our backs."
Carol-Ann Swinimer, a steward who works at a No Frills in Angus, said UFCW 1006A means help and security to her.
"Everyone was so nice and I am so glad I came."
UFCW 1006A is also proud to congratulate the winners of our Member Achievement Awards.
Nancy Prout - Leadership and Advancement of the UFCW
Audrey Anderson - Fundraising for Leukemia Research
Valrie Francis - Contributions to the Community
John Sedore - Promoting Health and Safety in the Community
Arielle Levesque - Eliminating Barriers for Human Rights