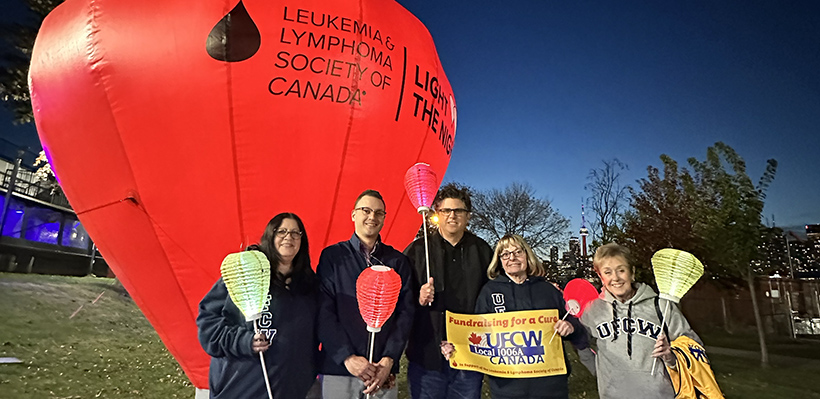 UFCW 1006A was proud to participate in the Light the Night event in Toronto this year, to raise funds and awareness for the Leukemia and Lymphoma Society of Canada.
"I recently experienced the loss of a family member due to blood cancer," said Nancy Prout, an Executive Board member with UFCW 1006A. "The inevitable was a given, but, as we all know, we're never prepared. With Light the Night, I was given an opportunity to raise awareness about the signs, symptoms and treatment options for those with blood cancers. Our union's participation and fundraising helps save lives and improve the quality of those affected."
The local union's participation was about supporting those who are currently diagnosed with leukemia and lymphoma, supporting families who have lost loved ones and raising funds to find a cure and assist those fighting this battle. With this event, we raised more than $3,000 to fund life-saving research.
"UFCW 1006A is proud to help light the night to provide hope to those suffering from leukemia and lymphoma," said President Wayne Hanley. "With our efforts, we are raising funds, increasing public awareness and helping save lives. Together, we will help find a cure for these blood cancers that affect so many in Canada and around the world. "
Since our historic partnership in the mid-1980s, UFCW Canada has helped raise more than $50 million for the Leukemia and Lymphoma Society of Canada.
Thank you to everyone who participated!