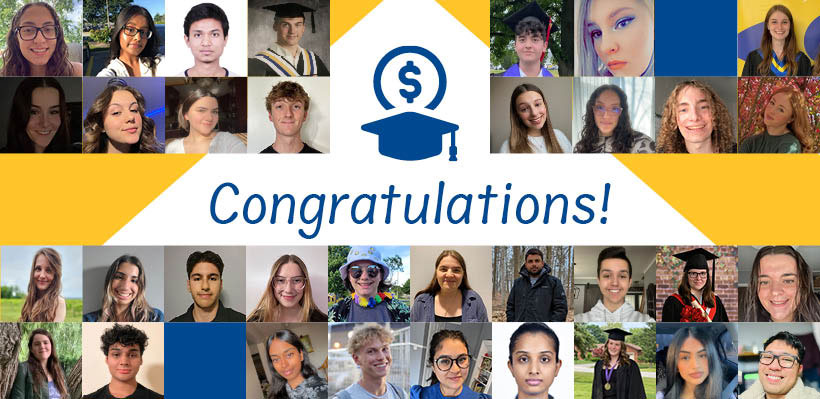 For Janmit Patel, the union scholarship represents hope.
"This means a beacon of hope, representing not just financial assistance, but also a profound affirmation of my hard work and dedication to education," said Patel, a second-year student at Lambton College. "It signifies the collective support of the UFCW Canada Local 1006A community in my academic journey, giving me the means to pursue my dreams with reduced financial stress. With this scholarship, I can fully engage in my studies, explore new opportunities, and, ultimately, contribute to the values of fairness and equality that the union champions."
Patel is among the 42 members and/or dependents who received a 1006A scholarship this year. Local 1006A awards 42 scholarships worth $1,006 each annually. The program, which has run for more than a decade, is aimed at helping members and their families cope with the escalating costs of tuition in Ontario.
"Your commitment to supporting members and their families with the rising expenses of higher education is commendable, and I am proud to be a part of UFCW Canada Local 1006A," said Patel.
Sam Wauchope, who is studying in his first year at McMaster University, was grateful for the union's support of his education.

"Receiving this scholarship is an incredible privilege, and it will undoubtedly make a significant difference in my educational journey," said Wauchope. "Your generosity is not only helping me pursue my academic and career goals but also inspiring me to work diligently and achieve excellence in my schooling. Your support motivates me to strive for success and give back to my community in the future."
President Wayne Hanley congratulated the scholarship recipients.
"First of all, I want to congratulate our 2023 scholarship recipients and thank everyone who took the time to apply for this program," said President Hanley. "Making life better for our members and their families across Ontario is at the heart of our union's mission and that's what we continue to do with initiatives like the scholarship program. At a time where the cost of living is rapidly increasing, we are proud to help our members and their families reach their dreams of post-secondary education."
Stephanie Jaro, who is studying in her first year at the University of Windsor, was thrilled to learn she was one of the scholarship recipients.
"This scholarship means so much to me as a student as it takes a financial load off my shoulders," she said. "I am extremely grateful for this opportunity and would like to thank everyone involved."
Hannah Lee Poy-Paxman, who is in her third year at Carleton University, was another recipient.
"This scholarship shows how the union values education through reducing financial burden," she said. "This scholarship will not only help me but my parents as well. With this scholarship, I will be able to pay for certain monthly expenses and redirect my focus on my academics and overall wellbeing."
Applications for the 2024 scholarship program are open – applicants not selected this year are welcome to reapply.
2023 Scholarship Recipients
Allura Allison
Cheyenne Braet
Mehak Brar
Eric Burke
Jeremias Campos
Emma Cardenas
Zachary Chaves Freitas
Willem Clarke
Chhandini Diaram
Alexxys DiLello
Mya Farace
Sophie Free
Nicole Gilliland
Raian Hasan
Grace Haycock
Darcy Hutton
Stephanie Jarison
Sadiksha Karki
Hannah Lee Poy-Paxman
Dhaval Limbani
William McCreight

Julia Meloche
Janarthani Mithunkanth
Katharina Murias
Brookelynn Myerscough
Anne-Clara Noel-Bellerive
Megan Norlock
Mateo Nosic
Janmit Patel
Alessia Perrotta
Edsel Jr. Potente
Hetvi Prajapati
Rasika Rathnasekara
Cobi Rideout
Taylor Savage
Emily Stasiw
Jackson Stumpf
Leslie Thiara
Hailey Van Der Laan
Gianluca Vella
Sam Wauchope
Ruth Workneh