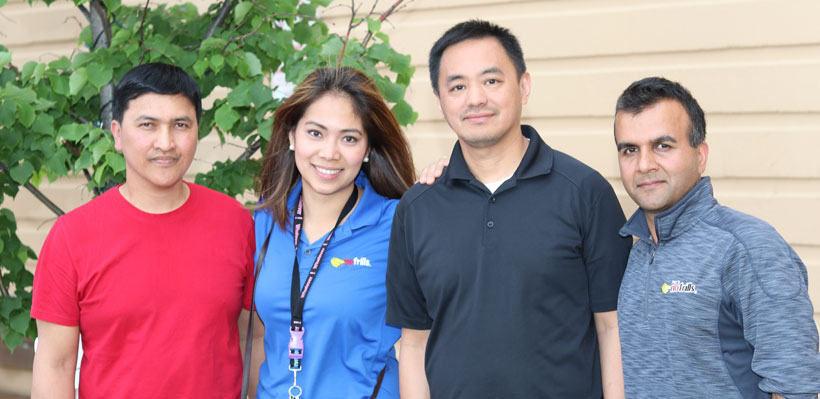 UFCW Canada Local 1006A members working at No Frills voted 80 per cent in favour of a new collective agreement with franchise owners at membership meetings and polling stations across Ontario.
"UFCW Canada Local 1006A is proud to be at the forefront of helping grocery retail workers achieve fairness in their workplace," said Wayne Hanley, Local 1006A President. "As the union for 10,700 No Frills workers in Ontario, we are pleased to have achieved a fair and equitable contract that advances the rights and livelihoods of our members."
Members voted on the six year deal at more than 60 meetings and polls.
"It's a good deal for me as a full-time worker because of the wage increases and the language protecting members from customer abuse," said Jeff Liban, from a Toronto No Frills.
"I am happy about the raise and that they are working to fix the benefits," said Amelia Kishlyansky, who works part-time at a Toronto No Frills.
"It's a fine deal– the pay raise is definitely an improvement. It's also good that people off the street are not making the same as someone who has worked there a long time," said La Toya Grey who works part-time at a Scarborough No Frills.
Paul Docherty, Executive Assistant to the President, was the lead negotiator for the union.
"The membership spoke loud and clear about what they wanted to see in the new contract," said Docherty. "You sent us in with a mandate and I am pleased to report we delivered with a strong agreement with gains for all members."
Contract Highlights:
Wage increases for full-time and part-time workers
Improving the Part-Time Wage Scale

As members work more hours and move up the wage progression, they will see the gap between their hourly wage and minimum wage increase. Past minimum wage increases were not applied to all workers in the wage progression which led to many workers with greater hours not being fairly compensated for their time with the company. This has now been rectified.
All part-time at the end rate are guaranteed a minimum gap above the minimum wage if for example minimum wage goes to $15/hour.
Every time minimum wage goes up in Ontario, all members working part-time in the progression will get an increase.

Resolve to Strengthen the Part-time Benefit Trust Fund

As a result of negotiations, the employer has agreed to contribute a one-time lump sum payment of $1 million and increase their contribution rate to the benefit trust fund from $0.15 per hour on part-time hours worked to $0.27 per hour on part-time hours worked over the life of the agreement.

More accessibility to hours for a greater number of part-time workers

Now, all part-time workers with 2 years of service or more can make a request to be transferred to another area of the store where they believe they may receive more hours. They have to remain in the new scheduling area for a minimum of 2 years before making any further requests to transfer.

Improvement to Full-Time Benefits: There will be 100% reimbursement for prescriptions filled at Shoppers Drug Mart. Reimbursement of the dispensing fee will be based on prevailing rate at Loblaws pharmacies.

"In instances where an employee is employed in a No Frills location, which for geographical reasons limits reasonable access to Loblaw affiliated pharmacies; the Employer's insurance carrier will not apply the prescription reimbursement differential associated with filling prescriptions at non-affiliated pharmacies."

Industry-leading domestic violence language to protect workers who are victims of domestic violence from being disciplined for work performance or absenteeism. The domestic violence language is a first for the local union.
Mobile scheduling – a faster and more convenient way for members to check their schedule online from the comfort of their home and mobile phone without having to be in the store. Rollout to six stores will begin in June with the remaining stores happening in July 2016.
Zero Tolerance for Abusive Customer Behavior:

"There shall be zero tolerance for abusive customer behavior towards employees. In the event of customer abuse, employees shall notify the Employer or designate immediately. No employee shall be required to serve a customer who has engaged in abusive behavior. The Employer shall take proactive steps to discourage abusive customer behavior."

Improved anti-discrimination language which includes gender identity, gender expression, and harassment.
"I want to thank the membership for their support and participation and congratulate our negotiating committee for their hard work and dedication in achieving this deal," Hanley said.
"Congratulations to Paul and the bargaining committee for a job well-done on behalf of our members," said Executive Vice-President Pearl Sawyer. "Our local union is proud to have negotiated industry-leading language which protects our members who experience domestic violence."
If you have any questions about your agreement, please contact your your rep! They will be happy to help.
Note: This article is a summary in brief. Please refer to the memorandum of agreement for full details. Members may request a copy of the memorandum by emailing us at This email address is being protected from spambots. You need JavaScript enabled to view it.. These amendments are to be read with your collective agreement while the new collective agreement books are being produced.