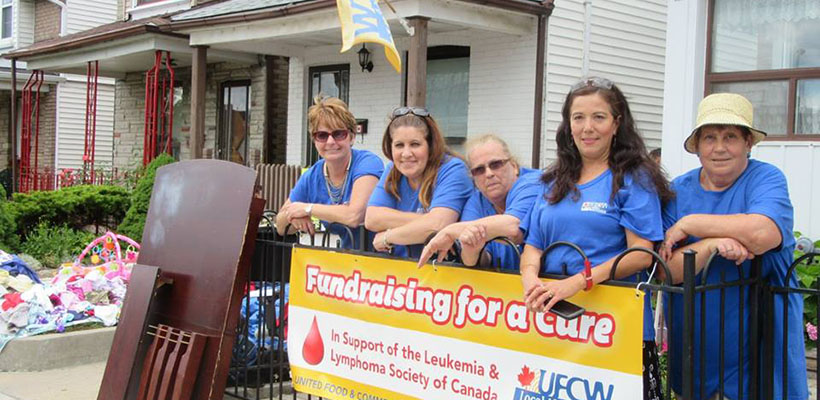 UFCW Canada Local 1006A members and activists in Toronto hosted their second yard sale of the year on September 24, raising $720 for the Leukemia & Lymphoma Society of Canada.
Mary Joe Eaton, Diane Wilmot, Maria Bocangel, with the support of Leukemia Fundraising Coordinator Diana O'Brien have raised nearly $1,800 this year and $3,700 over the last two years.
"UFCW Canada Local 1006A members and staff continue to be leaders in the fight against Leukemia and Lymphoma," said President Wayne Hanley. "I am proud to congratulate Mary Joe, Diane, Maria and Diana for yet another successful Leukemia fundraising initiative. Your efforts are ensuring more people with blood cancers are living longer and others are in remission. Thank you for your hard work on behalf of our local union."
Diane Wilmot, a Local 1006A member from Stephen's No Frills, said the cause was a personal one to her.
"It means a lot to me to participate because my grandmother died from leukemia," said Wilmot. "I wanted to do my part to help people and make the world a better place."
Mary Joe Eaton, who works with 1006A, helped organize the yard sale with Diane, Maria and Diana.
"It was an amazing day, thank you to everyone who came out and supported us."